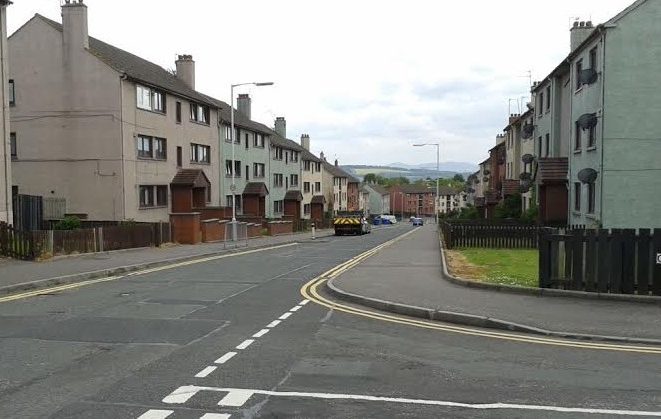 A teenager who lived in one of Fife's most troubled streets is career ready after gaining experience in the workplace.
Inverkeithing High School pupil Blair Manderson, 17, spent four weeks at engineering firm FMC technologies as part of a Fife wide drive to boost the employment prospects of young people.
Having been too nervous to give a presentation to his school class, the placement helped him gain the confidence to speak to local councillors at the last south west Fife area committee meeting.
"The internship has helped me out a lot," he said.
A former resident of Inverkeithing's Fraser Avenue, which is now being demolished and the area regenerated, Blair is now excited about the future.
His school was one of the first in Fife to join the Career Ready scheme, which links employers to schools and colleges.
Depute head teacher at Inverkeithing Yvonne Beveridge said the school's Developing the Young Workforce scheme aimed to get children thinking about careers from an early age.
Area committee chair Councillor Bobby Clelland said: "It's important that businesses continue to work with schools to identify work possibilities and help pupils to understand the link to learning. These interactions can influence future career choices."
The committee was also given a report on the destinations of Fife school leavers.
Last year, nearly 19% of school leavers went into employment and about 40% started higher education.
Around 30% followed courses below degree level.
Mr Clelland added: "These figures are invaluable. Only by understanding local trends can we modify local activity to improve outcomes for the young people.
"Our Fife-wide Developing the Young Workforce programme is helping our schools to provide universal, focused and targeted provision for children by engaging with employers."
Fife Council's economy and planning spokesperson Lesley Laird said: "In Fife, we recognise the crucial role that schools play in preparing pupils for the world of work.
"We also know that it's through partnership with the business community and the college that we can make a real fundamental difference in equipping young people with key skills and knowledge needed not just for the world of work today but for the jobs that will exist in the future.
"Fife has been actively partnering and recruiting more and more businesses to work with our schools, from small micro businesses, to large, multi-nationals across private, public and voluntary sectors. We can see that this approach is having an impact and changing young people's lives."