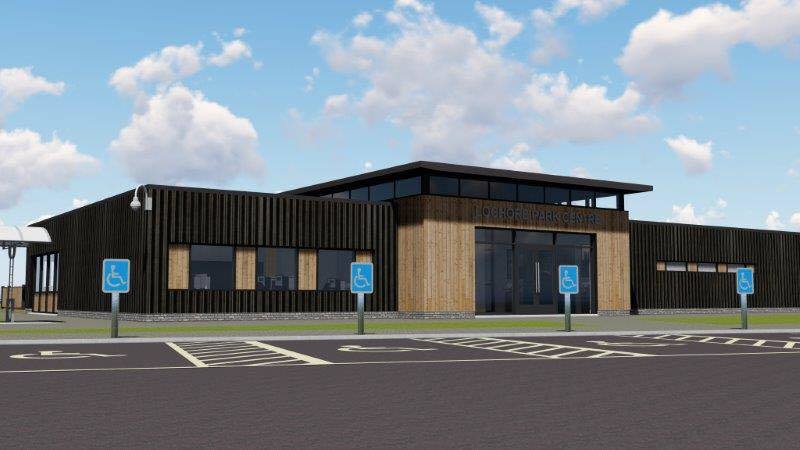 A row over the new visitor centre for Lochore Meadows Country Park has escalated, with Fife Council accused of breaching the community's trust.
There is fury that planning permission was granted for the £1m centre days after assurances there would be a three week pause for public consultation.
The council insisted that opinions would "absolutely" be heeded before construction begins.
But Benarty Community Forum treasurer Lorna Bett said the shock turn of events had provoked anger, suspicion and mistrust of the local authority.
She said: "This feels like a slap in the face."
The modern black-clad and timber building proposed has been likened to a prison cell block and is smaller than the centre it will replace, but with a larger cafe.
Local residents claim there was no public consultation by the council or Fife Cultural Trust, which manages the park, and although the council denied this it admitted the consultation could have been handled better.
At a heated public meeting last Monday the council agreed to put the project on hold but four days later planning officers granted planning permission for the building.
Assurance was offered by Grant Ward, the council's head of area services, who said the decision was always expected around this time.
He said: "I must stress that the approval does not mean that work will now begin on site.
"This additional feedback that we're in the process of gathering will absolutely be taken into account."
Lochgelly and Cardenden councillor Mark Hood said he was not concerned the approval would impact on the consultation process.
He said: "Nothing will happen on site until the project team instruct the developer to start, but we are committed to allowing further consultation before this next step."
However, Ms Bett said: "There were over 100 witnesses there that night and we were told by Cllr Hood 'we will take the community with us' but that's not how the community feel.
"This is hugely disappointing and has caused us to really mistrust the council.
"Instead of putting us down, this has made us more determined to find out what has happened here and to complete our consultation."
Pam Ewen, the council's senior manager for planning, said the council's planning application had been granted by officers rather than councillors as is standard practice where there are no objections.
She said: "The application did not require to be advertised, however all community councils are provided a copy of the weekly list of planning applications to provide the opportunity to request to be a statutory consultee.
"In this instance the weekly list was sent out on June 13 and the community council did not request to be consulted."
The new centre is part of £1.8m of investment in the park which will include a new golf clubhouse, pavilion and extension of mountain bike trails.
A further public meeting will be hosted by the forum in Lochore Miners Institute on Monday December 5 at 7pm.