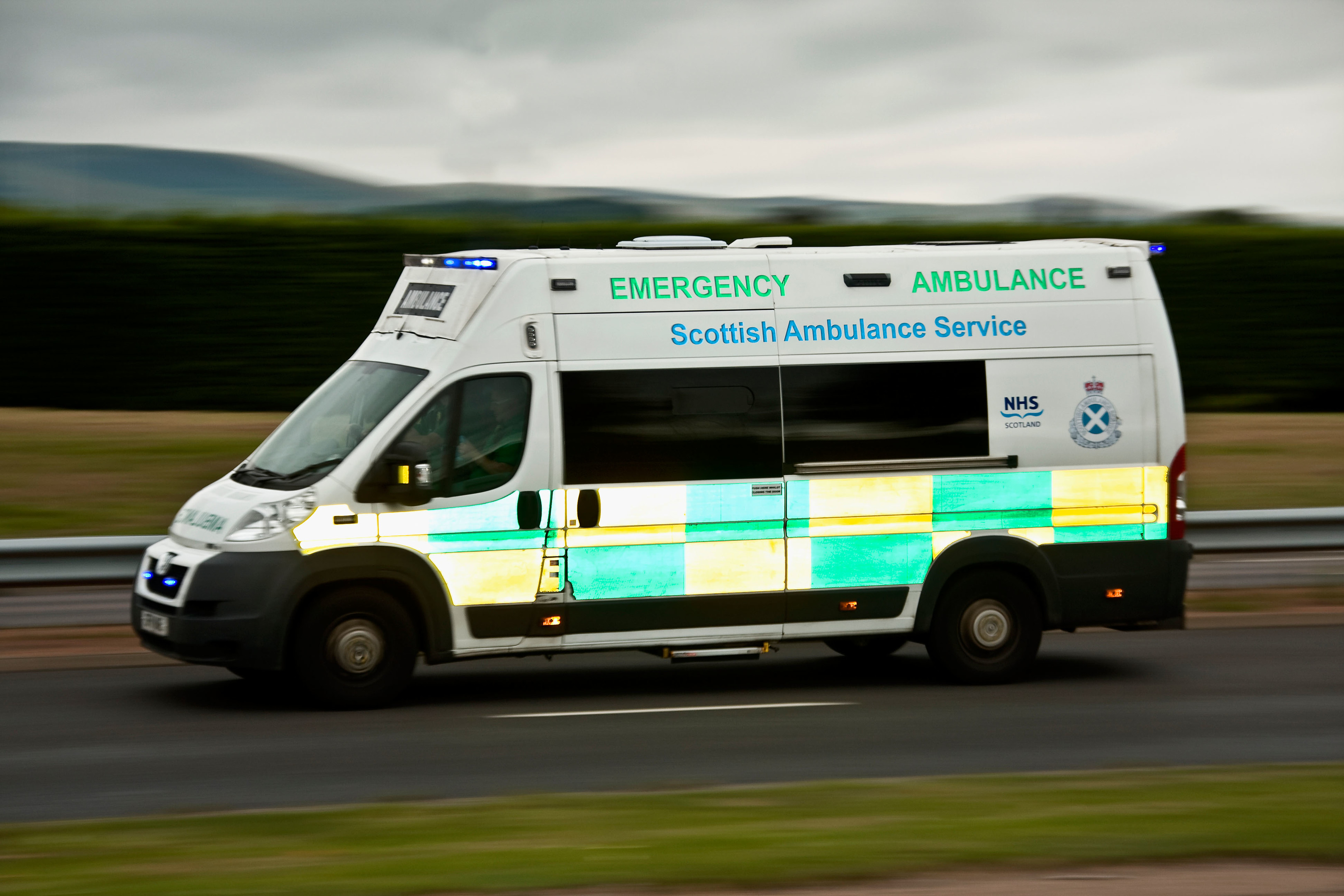 Ambulances responding to the most serious calls in Tayside and Fife last year missed national targets by the largest margin this decade, new figures show.
The Scottish Ambulance Service (SAS) is expected to arrive at 75% of incidents relating to immediately life-threatening situations – known as category A calls – within eight minutes.
However, it has not achieved this in Fife since at least 2009, and not since 2013/14 in Tayside.
Separate figures show that in some areas across Courier Country ambulances meet the target less than 15% of the time.
Standards for ambulances attending the most serious calls in the expected time have been plummeting in both Fife and Tayside health board areas since 2012/13.
Figures obtained by The Courier, detailing response times between April 2009 – March 2016, show 2015/16 was the worst record for the service, with Fife falling 10 percentage points below the expected target.
Over a quarter of category A callers in the Kingdom waited up to 15 minutes and a further 6.63% left waiting for up to half an hour.
Ambulances in Tayside achieved a 71.05% rating last year. The SAS has met the target in Tayside twice – 2012/13 and 2013/14 – and fell short by just 0.1% in 2011/12.
Liam Kerr, Scottish Conservative MSP for the North East region, said: "These figures reveal a very worrying trend across Tayside and Fife for the length of time it takes an ambulance to respond to emergencies.
"Targets are being missed year after year and lives are being put at risk as a result. It is not acceptable and we need to ask serious questions of the Scottish Government."
The service announced last year it would trial a new system to prioritise serious road crashes and cardiac arrests, while call handlers would spend more time talking to patients in less urgent cases.
It follows similar changes in parts of England and Wales which are said to have lead to faster response times for critically-ill patients.
Mr Kerr added: "I am aware that the Scottish Ambulance Service is trialling a new system for dealing with 999 calls, and we can only hope that leads to some improvement. However, changes to call handling will not cover up the fact that the service is stretched to the limit.
"Our emergency workers do a tremendous job, but they must be adequately resourced by the Scottish Government, or it is the people of Tayside and Fife that will suffer."
Health Secretary Shona Robison said: "Despite the Scottish Ambulance Service experiencing higher demand levels throughout Scotland, our crews are saving the lives of more patients than ever before.
"The average response time for call-outs in both Fife and Tayside in 2015/16 was around 7 minutes against a national average of around 7.5 minutes.
"We have increased the Scottish Ambulance Service budget by £11.4m this year, which will see the service train an additional 200 paramedics as part of our commitment to training 1,000 more in the next five years.
"Of these 200 new recruits, 38 are to be based in the East Central Division. The funding will also ensure more clinical advisers and dispatch staff in control rooms, as well as improving care in remote and rural communities."
A Scottish Ambulance Service spokesperson said: "We introduced a new pilot clinical response model in November 2016 which aims to save more lives and improve the quality of care for patients.
"It will allow us to respond faster to more patients with time-critical, immediately life-threatening conditions. In less urgent cases, call handlers may spend more time with patients to better understand their health needs and ensure they send the most appropriate resource for their condition."
Patients in Tayside have also been afflicted by delays of up to 26 times that of the expected waiting time in recent years.
The longest individual wait in the period covered by the figures obtained by The Courier was in 2010/11, when the service recorded a three-and-a-half hour response time for a category A call.
In 2013/14 a time of 149 minutes was noted, with 136 minutes recorded the following year.
Last year one in every 200 category A calls in Tayside resulted in a wait of more than half an hour.
Of the responses over the eight-minute target, Fife responses tended to be within half an hour, with just one caller waiting more than an hour in the seven years covered by the figures – compared to at least 17 in Tayside.
The SAS spokesperson continued: "Occasions do present where we are unable to get to the patient within the target response time due to either the remote, rural nature of the incident, weather conditions or a surge in demand for our service.
"That's why we work closely with local communities to support the development of community first responders, giving local people the knowledge, skills and confidence to support the response to appropriate life threatening emergencies in their own local community."