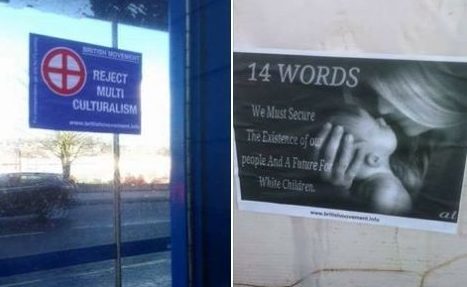 Authorities in Fife have strongly condemned the actions of a far right fascist organisation which has focused its attention on the region to spread hate-filled propaganda.
Members of the British Movement, which was founded in the 1960s and became synonymous with violence and extremism over the decades, have targeted the Kingdom with a series of fly posters popping up particularly in the Dunfermline and Kirkcaldy areas, and the group has also taken to social media in a bid to get its message across.
Bus stops have been plastered with material featuring the infamous neo-Nazi 'sunwheel' logo which calling on Fifers to "Reject Multiculturalism", while others have referenced '14 Words', which is the most widely-used white supremacist slogan in the world.
The sudden rise of the propaganda in various parts of the region has left many people sickened, and police are investigating who is driving the British Movement's cause.
Chief Superintendent Colin Gall, divisional commander for Fife, confirmed action is being taken to find those promoting the controversial messages.
He said: "Posters such as these promote racism and intolerance, neither of which we will tolerate in Fife.
"I would urge anyone who spots materials such as these to contact us immediately so we can ensure they are removed and progress inquiries to trace those responsible."
A social media blog entitled 'Central Belt Fife BM' was the subject of a complaint to Facebook and was subsequently closed down, but a statement on the British Movement's main website bemoaned an "unprecedented level of interference by left-wing opponents".
The website went on to criticise those using "underhand methods" to "censor the truth and prevent the British NS (National Socialist) message getting out to the British public", adding that the organisation's priority in 2017 is to "create, develop and broadcast as much BM propaganda and public information as widely as possible".
"It will take more than some 'internet-armchair' warrior to silence BM activists," the website warned.
Councillor Margaret Kennedy, chair of Fife's safer communities committee,said: "This is most concerning indeed. It is not acceptable to have any form of racism displayed."
Ms Kennedy added that the council's policy, once advised of these posters, is to remove them within 24 hours as they are viewed as "unacceptable graffiti".
Mark McCall, safer communities service manager with Fife Council, commented: "Everyone has the right to live safely and without fear. Experiencing any abuse, harassment or violence can be devastating.
"Hate incidents can include verbal abuse, jokes, written abuse, threats, assault, property damage, incidents online and graffiti.
"We work hard to reduce crime and the fear of crime and would encourage anyone who experiences or sees it happen to get in touch with the police or call Fife Council on 03451 55 00 22.
"Similarly if anyone sees anyone fly-posting they should also call us on the same number so we can arrange for any posters to be remoAved."
The British Movement, which started life as a political party, became increasingly known for its violent attacks on minorities in the 70s and 80s in England, although it was thought to have collapsed in 1983.
However, the movement has since re-emerged, albeit with a much smaller membership, and has had a growing presence on the internet.