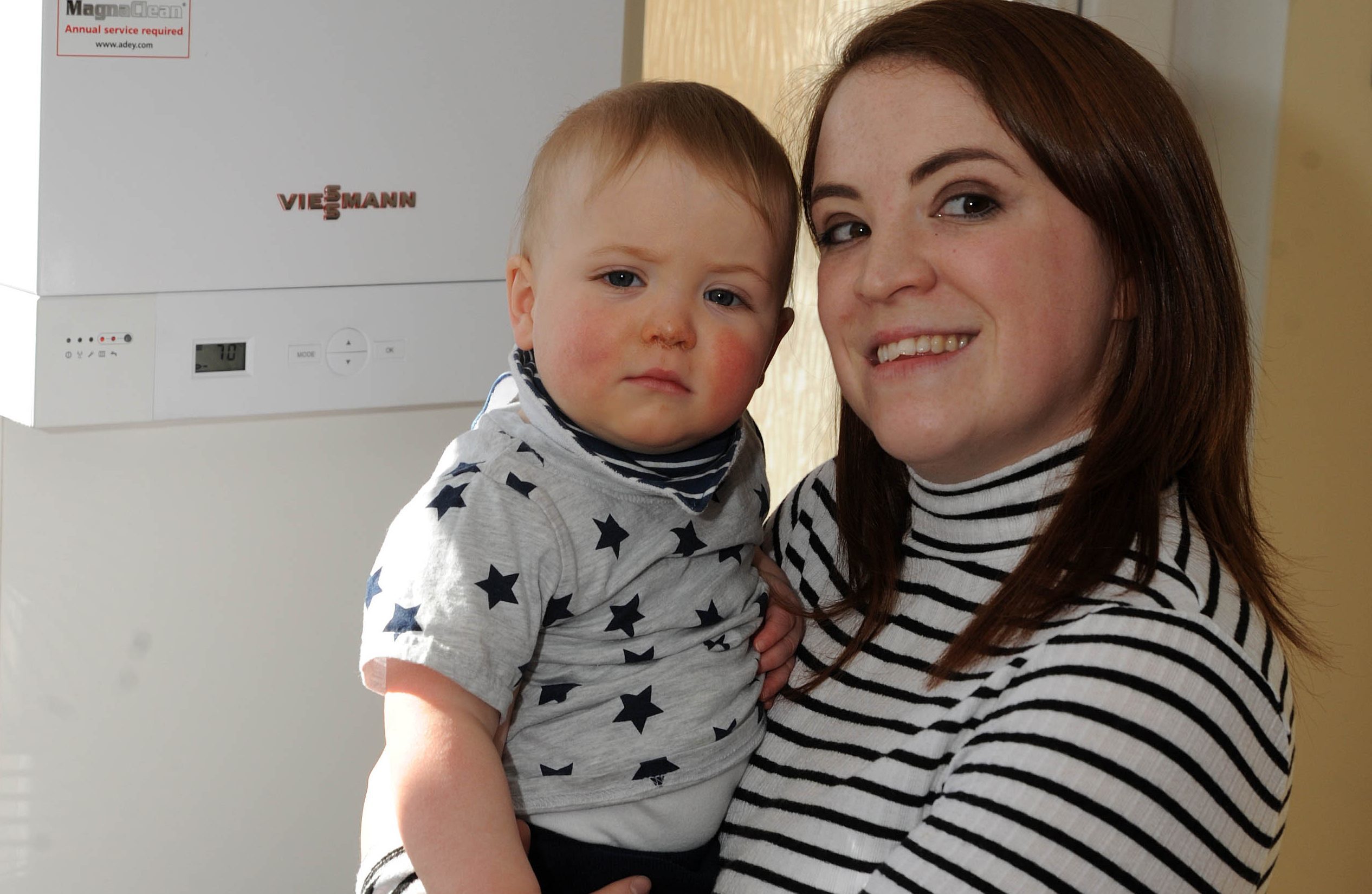 A Fife firm stepped in to help a young widow by replacing her old boiler for free.
Glenrothes mum Sarah Cook was nominated by friends and family after Kirkcaldy-based MPH boilers ran a competition to win a new boiler through Kingdom FM.
Sarah, 28, has been bringing up 13-month-old Zac alone since the sudden death of her husband last autumn.
Zac was just eight months old when dad Iain took ill after playing football with Glenrothes Rovers.
Iain, 29, had undiagnosed ischemic heart disease.
"We had only got married in 2015," said Sarah.
"I'd waited nine years for the ring.
"What's upsetting is he's not going to be there for things like when Zac goes to school.
"I take things day by day. I have good days and bad days."
She thanked all those who had nominated her, adding that her old boiler kept breaking down, often leaving her with no heating over winter.
"I'd like to thank Kingdom FM and MPH, and all my friends and family," she said.
Football mad Iain was a Pars supporter and also played for the Dunfermline Fans squad.
When he went to the doctor last October complaining of chest pains, he was told he had probably pulled a muscle.
But Sarah found him lying lifeless on the sofa the day after he had played a game with Glenrothes Rovers.
Iain had done a lot of work for the UK charity HCPT, which organises pilgrimages to Lourdes in France for disabled and disadvantaged children.
The family are continuing his work by raising money for HCPT in a series of charity events.
His mum Yvonne has signed up for a sky dive, while his dad Angus and best friend Mike Scott plan to scale Ben Nevis.
A race night has also been organised.
Sarah said: "The charity gives parents some respite as well.
"Iain just loved it. He loved being with the kids.
"All my friends and family have just been fantastic.
"It's mainly Zac I'm worried about. He was eight-and-a-half months when Iain died.
"We were planning on having another one when he was three."
Ewan McLean from MPH Boilers said one of the aims of the competition was to raise awareness of fuel poverty.
"A new boiler could save you up to £50 a month on your fuel bill," he said.
"We want to help people in the community as much as we can."