Developers plan to demolish Netherlea Hospital in Newport to make way for homes costing up to £650,000.
Boasting views across the Tay and a few minutes' drive from Dundee, a two bedroom flat at the site could cost around £275,000.
Law Property Group, who are acting as agents for the developers, said it was a prime development for local residents looking to downsize.
But the initial drawings have been branded "hideous" and "like Lego" and the local community council said it was "surprised" by the price range.
Kate Legg, who is secretary of Newport, Wormit and Forgan Community Council, said: "We were a bit surprised at the cost of the houses.
"There's a similar development in St Andrews, which has sold at I think similar prices. I can't say people won't buy them, but not many people I know in Newport would."
Mrs Legg said downsizers, in particular those who are elderly, preferred a bungalow.
"Builders don't want to build bungalows because they need a larger plot of land than a two storey house," she added.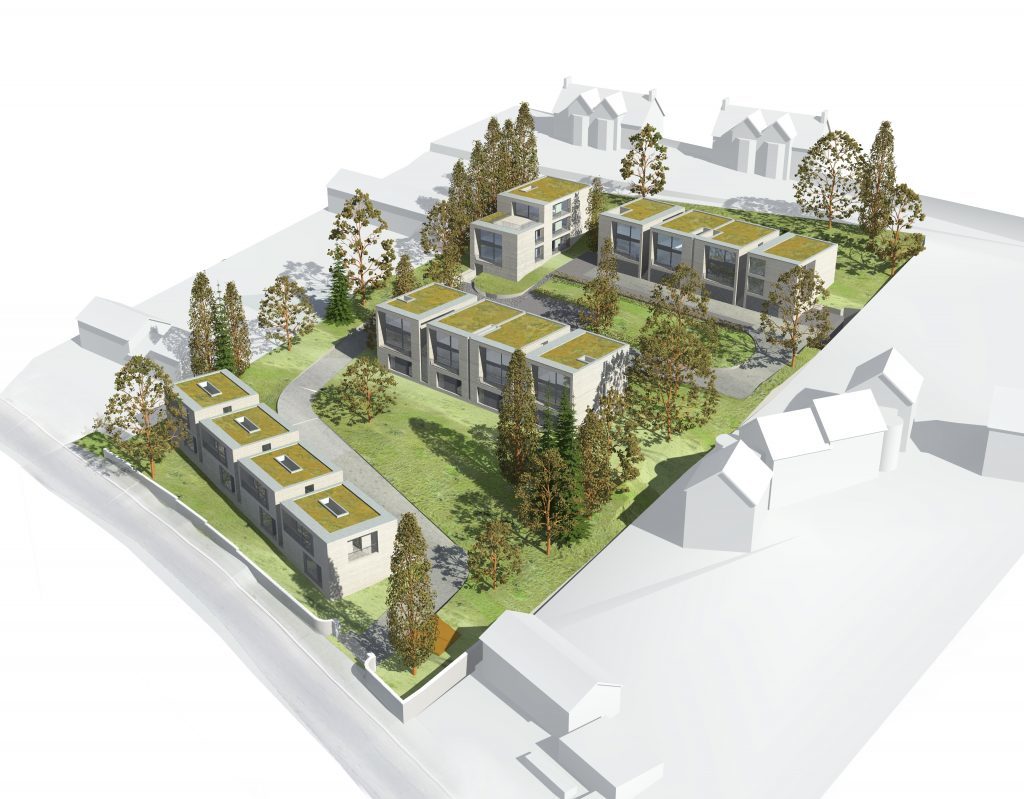 In one comment on the community council's Facebook page the plans were described as "hideous concrete creations."
Another said the properties were "like Lego buildings" and "probably not within the reach of a lot of current Newport residents".
Between 35 and 45 properties, which would be up to four storeys high, are planned for the hospital site.
Netherlea Hospital, which closed in 2011, would be demolished.
David Hagan from Law Property Group said: "We've talked to the planners and there's not a great appetite for keeping the hospital.
"It wasn't a great building in the first place and it's not in a great condition. It's not an attractive building."
He said a planning application could be submitted by the end of April.
"These homes are going to have fantastic views across the Tay, to the Law, Sidlaws and the new V&A.
"The development and landscape design will be world class."
The plans are currently on display at Newport Library.
"The reason for having the display at Newport Library is so our ideas can be informed by feedback," he added.
"We've already had some positive feedback but there are a couple of things people have said they didn't like."
History of Netherlea
Netherlea is a red sandstone mansion which was built in the late 19th century.
It started off as the home of local shipowner Andrew Leitch.
During the second world war, it served as an officers' mess for a Norwegian Air Force squadron stationed at Woodhaven, which is between Newport and Wormit.
After the war it was turned into a maternity unit and in 1974 became a long-stay hospital for elderly patients. It was designated a community hospital in 1997, catering for up to 10 patients.
But as NHS Fife reviewed its estate amid budget pressures, Netherlea was deemed no longer fit for purpose.
And its closure coincided with a shift away from residential care and towards keeping people at home for longer.
The health board also said the range and complexity of patient needs was growing evermore challenging for the hospital.