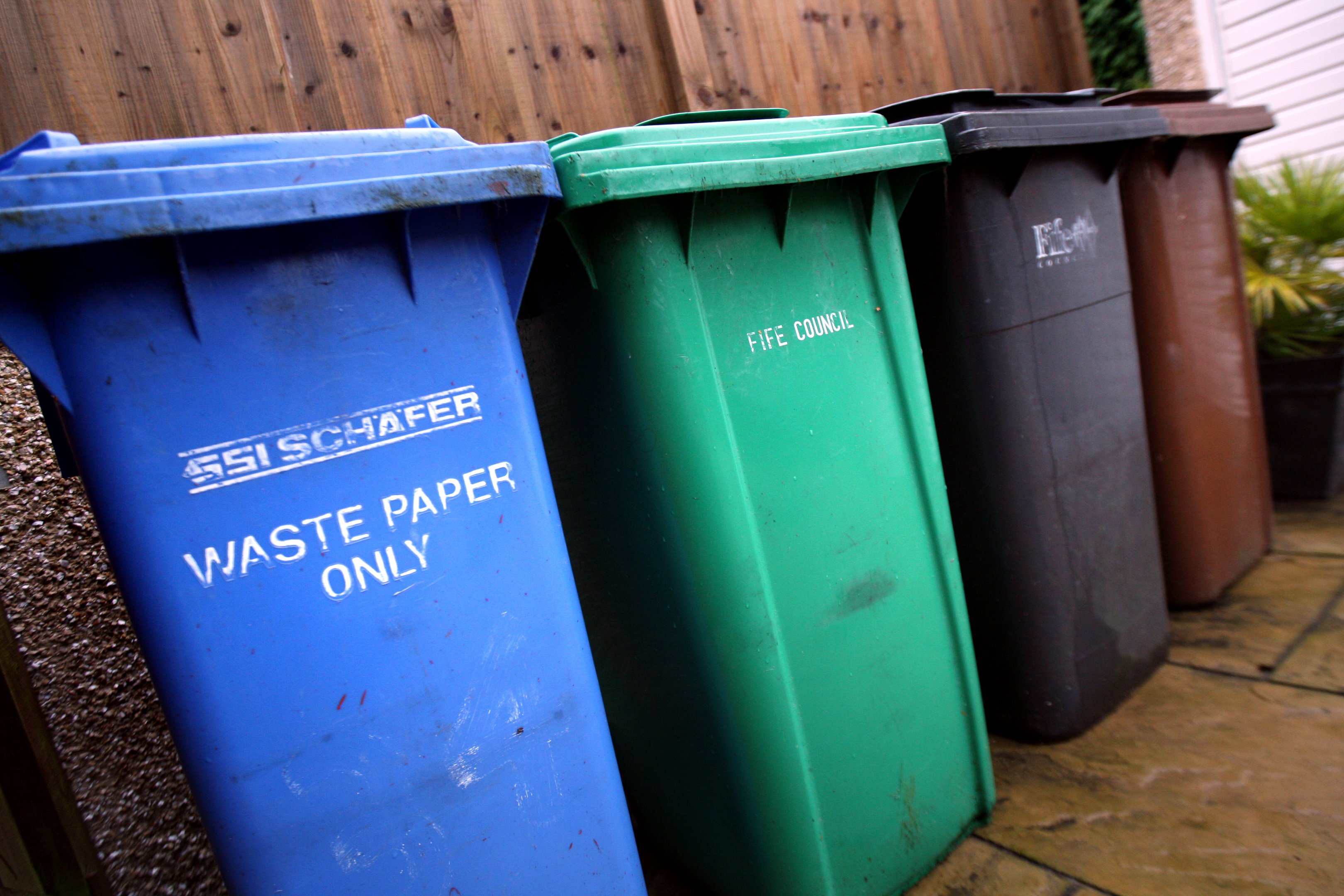 A move to four-weekly bin collections across Fife could be just a matter of months away after two trials proved hugely successful.
More than 4,000 households in Markinch, Coaltown of Balgonie, Thornton and the Stenton area of Glenrothes have been participating in trials since the end of September 2015 which saw landfill bins emptied less often and recycling bins collected more often in a bid to boost recycling rates.
Fife Council has insisted that no decisions have been taken on whether or not to roll out one of the trials region-wide, but The Courier understands that their outcomes have only served to heap pressure on the incoming administration to move Fife to monthly collections.
Kerbside recycling rates of 68% in Markinch and Coaltown of Balgonie and 69% in Thornton and Stenton have been achieved, while officials say the volume of material being put in blue, brown, grey and green bins has changed in line with the change in bin collection frequency.
Indeed, landfill has reduced on both trials, while the amount of plastic and cans, paper and cardboard, and food and garden waste collected at the kerbside has noticeably gone up.
Just six formal complaints have also been made to the council about the bin trials from within the trial areas since the pilot began, while service requests to deal with pests and fly tipping are said to be in line with Fife-wide trends.
All of that information will form the basis of recommendations to the new-look Fife executive committee after May's elections, and it seems likelier than ever that a four-weekly collection for blue landfill bins will be favoured.
Chris Ewing, chief operating officer for Resource Efficient Solutions (RES), the council's arms length organisation to provide waste treatment and disposal services, said: "We are pleased that people in Fife, particularly those in the trial areas, are recycling more.
"Our analysis also shows that contamination levels and the numbers of blue bins with raised lids both remain low, thanks to the commitment of local people."
He added: "I must stress that no decisions have been made on any further roll-out of the recycling trials.
"Following the recent Policy Advisory Group (PAG) meeting, we are set to further analyse recycling centre usage, undertake more waste compositional analysis, and explore how we can support people  who want to recycle more."
"We also need to calculate costs, to ensure that any roll-out is value for money for the people of Fife.
"We know that bin collections and the services delivered are very important to local people, and that's why there's ongoing analysis of the data gathered to-date and further monitoring. The outcome of the recent meeting means that extensive work still needs to be carried out before the council's executive committee can consider any potential changes to the services that we deliver."
The trials also confirmed that the amount of landfill waste collected at the Glenrothes recycling centre has not increased since the trial began, while data collected on the number of households presenting bins with raised lids or side waste are comparable to non-trial areas.
Action needed to avoid harsh financial penalties
The need for Fife Council to take some sort of action to boost recycling rates has never been more stark.
Although Fife is on track to meet the Scottish Government target of recycling 60% of waste by 2020, more needs to be done to achieve the 70% recycling target, and maximum 5% sent to landfill, by 2025.
Landfill tax currently costs Fife Council £10 million a year and, while the current four-bin system has been deemed a success to date, rising waste disposal charges could cost the council an extra £1.5 million each year if recycling rates do not increase.
That prompted the launch of the two trials.
In Thornton and Stenton, where the higher of the two recycling rates have been achieved, blue bins and grey bins were emptied every four weeks, while green bins were typically emptied every two weeks. However, the brown bins were emptied every two weeks from March to November, to accommodate an increase in garden waste, and every four weeks from December to February.
The Markinch and Coaltown of Balgonie trial saw blue, green and grey bins emptied every three weeks, with the brown bins emptied every two weeks from March to November and four weekly from December to February.
Fife Council's arms-length company Resource Efficient Solutions (RES), which effectively managed the implementation of the four-bin service throughout the region since it began trading in April 2014, has been managing the current trials.
Analysis of bin contents before the trials were implemented revealed that much of the waste in landfill bins in the trial areas could be recycled.
Mirroring a previous Fife-wide analysis, over 50% of blue bin (landfill) contents could go in other kerbside recycling bins, and a further 20% could be taken to recycling points and centres.
In response to anyone struggling with the change, Fife Council's recycling advisers – who can be reached on 03451 550022 – were on hand to provide support or additional information.
Households that have children in nappies, produce medical waste, or consist of larger families are able to request bigger blue bins or, in the Thornton and Stenton area, more frequent collections.