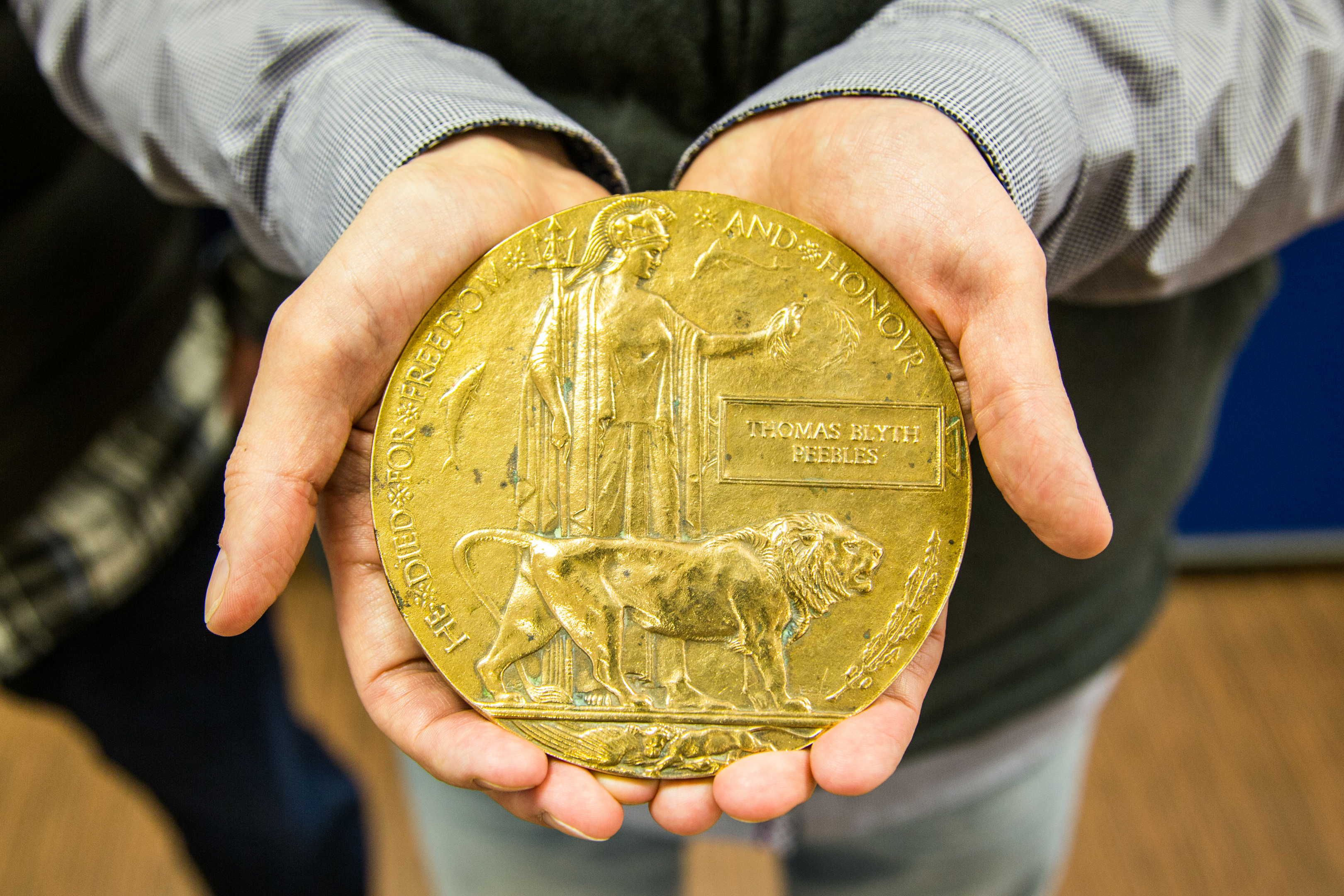 One hundred years after his tragic death, a Fife war hero's medal has been handed over to his family.
Dysart's Thomas Blyth Peebles was only 23 when he was killed during the Battle of the Somme in the First World War on December 18 1916.
After his death his family would have been given the large medal, more commonly known as the Death Penny, for his service to the Empire.
Quite how it came to be tucked away in a Fife shed remains a mystery.
It was only when the current owner of the shed, who wants to remain anonymous, stumbled upon the piece that the search began to find Mr Peebles' descendants.
She handed the medal, which was in excellent condition and had obviously been kept very safe, over to Glenrothes Area Heritage Centre.
Despite the best efforts of volunteers, no direct descendants of the soldier had been found.
Then centre founder Linda Ballingall enlisted the help of local historian Ian Nimmo White.
He had already uncovered some leads, when last year he asked Courier readers for help.
Thanks to painstaking research, direct descendants of the Dysart man have been traced and have pledged to be good custodians of the precious medal.
Two of his three great grandsons, Gavin and Ross Baxter, travelled with mum Maureen to Glenrothes to receive the medal from Mrs Ballingall, who expressed her delight at being able to reunite the medal with the family.
Gavin, now from the Paisley area, said the family had not known much about the young hero, just that he had served in the war.
He has seen his name on the list of those who perished, kept at Edinburgh Castle, but had not realised he fought at The Somme.
Both twins expressed their deep gratitude to the heritage centre and Mr Nimmo White for their work.
Mr Nimmo White found Mr Peebles and wife Catherine had had a son, Robert Grieve Peebles, just before he was killed.
Robert then went on to marry Grace Wilson in 1941.
But tragedy was to strike the family once again.
Sadly he was to die in the Second World War and his son, Robert Gordon Peebles, was born only three weeks later.
Grace remarried, to William Baird Baxter, in 1947 hence young Robert's change of surname.
He in turn married Maureen in 1971 and they have three children, Ross and Gavin and brother Craig, who is in Canada.