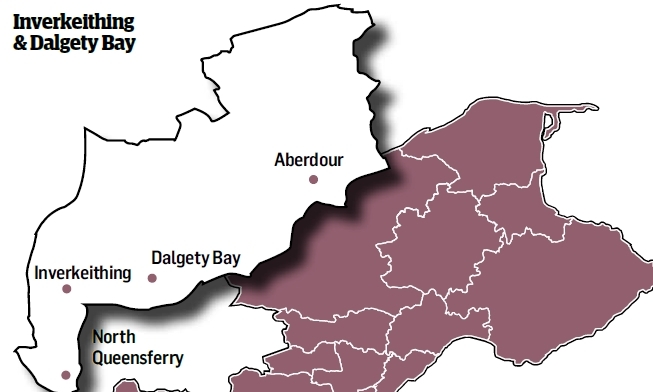 The Inverkeithing and Dalgety Bay ward has been slightly amended this year to take in North Queensferry.
With the Forth Bridge, now a Unesco World Heritage Site, on its doorstep North Queensferry could see an influx of visitors as Network Rail aims to market the structure as a tourist attraction.
However, plans for a £10 million visitor centre in the town have been shelved for now. It is an area where new house building has caused controversy, with fears individual settlements are being merged as prime agricultural land gets snapped up by developers.
At Spencerfield, 295 homes are being built between Inverkeithing and Dalgety Bay. Taylor Wimpey were granted planning permission on the condition they paid more than £580,000 to Fife Council, towards roads and transport.
Along the coast at Aberdour, residents are fighting plans to build in the village, amid concerns the character of the village could be changed forever if major proposals go ahead.
Meanwhile, whoever takes over after May 4 will find themselves
fielding regular updates on the efforts to clean up radioactivity at Dalgety Bay, with work on site not expected to get started until summer 2019.
And the issue of safety at Prestonhill Quarry in Inverkeithing, which claimed the lives of two teenagers in a 10-month period, has still not been resolved.
Fencing has been put up at the water-filled quarry, but this has
suffered repeated vandalism and there have been calls for a long-term
solution.
---
Candidate profiles
The Courier invited each candidate to submit a short introduction to themselves and, if they wished, a video explaining why they deserve your vote.
David Barratt (SNP)
At 27, David Barratt is one of Fife's youngest candidates and has pledged to bring a fresh perspective along with his professional experience as an environmental consultant specialising in flood risk.
He became a community councillor in 2015.
"I wanted to be hands-on in making my
community a better place," he said.
"The challenges for ward six vary, from the need to preserve the character of villages like Aberdour and North
Queensferry, to the need for regeneration in Inverkeithing and
community facilities in Dalgety Bay."
Helen Cannon-Todd (independent)
Having lived in the area all her life, Helen Cannon-
Todd has been a community councillor, gala committee member
and an organiser for a new play park.
Mrs Cannon-Todd is a mother and grandmother, and runs the
Dalgety Bay Foot Clinic.
"As a business owner I believe there is a lack of affordable rental units
and as a grandmother I am concerned about the lack of child care provision and pelican crossings," she said.
"I feel that the issue of having a new swimming pool in the area needs to be revisited and making sports facilities more affordable may be a way of curbing vandalism."
Dave Dempsey (Conservative)
Dave Dempsey was born and grew up in Kirkcaldy and has lived in North
Queensferry for 30 years.
After a career in software engineering, he moved into local politics and has represented the Inverkeithing and Dalgety Bay ward for the last 10 years.
He said: "For most of that time, I've led the Conservative group on Fife Council and for the last five years I've chaired one of the council's scrutiny committees.
"I find that being a full-time councillor and political activist takes up all the time I have but I'm still able to work through my CD collection while driving to meetings."
David John Hansen (Green)
David lives in Inverkeithing and offers a wide range of experience
to voters.
In day jobs he has worked in the civil service, run two small businesses, started and run an environmental charity and now works for a housing association.
In his spare time David has campaigned on issues related to transport and the environment.
Callum Hawthorne (Lib Dem)
Callum Hawthorne was born at the old maternity hospital in Dunfermline
and has lived in Inverkeithing all his life, attending the old primary school and high school.
After completing a carpentry apprenticeship with a local construction company, he was affected by the 2008 recession and worked as coal sampler at Longannet power station for a year before moving to his current job as a stevedore.
He runs full and half marathons, and plays cricket and rugby.
Mr Hawthorne said: "If you elect me you are choosing a candidate with a positive and vibrant vision for our community."
Lesley Laird (Labour)
Lesley was elected as a councillor for the ward in 2012.
Prior to her election she worked in senior roles in industry and has put that experience to good use on behalf of her constituents.
She is depute leader of the council and has a special responsibility for economic development and employability.
She has been instrumental in setting up the Fife Youth Jobs Contract and in putting in place new support for looked after children.
Alice McGarry (SNP)
Alice McGarry said: "By May 4, I will have represented this area for 31 years.
"I have met many people, dealt with thousands of personal cases, attended countless meetings and still find the work fulfilling and challenging.
"I have seen many changes over the years, most significantly in the field of communications.
"While many constituents still phone or attend surgeries, much of my casework now comes via email and social media.
"No matter how folk choose to make contact, I try always to be available, to listen and to act on their behalf.
"With their support, I hope to continue to do so."