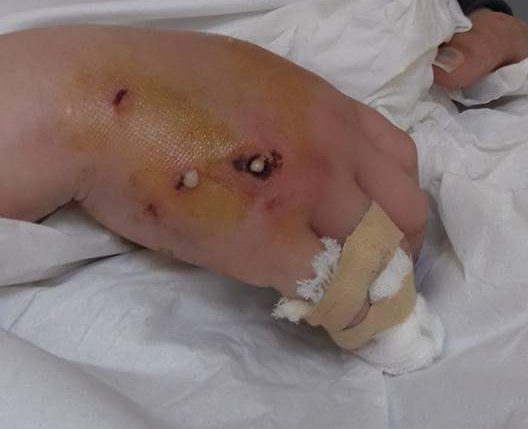 A six-year-old boy required hospital treatment and antibiotics after being bitten by a dog on his way to school in Rosyth.
Police confirmed a 16-year-old boy had been charged under the Dangerous Dogs Act in connection with the incident.
The boy's mum said she was confident her son's hand had suffered no permanent damage, but said the ordeal had given him nightmares and he had become wary of his pet dog.
She was walking her little boy to school along King's Road when the incident took place.
"It happened walking to school, walking down by Kings Road school about ten to nine in the morning," she said.
"He was taken straight into school to try to get it cleaned."
She said her son was then taken to hospital to get the wound treated.
"Bar the nightmares and accidents he's doing fine," she said.
"He's been back to school this week and also is back being around with his own dog, thankfully."
The mother said it was fortunate there had been a fence between her son and the dog.
"It could have been a lot worse," she added.
A spokeswoman for Police Scotland said: "Police in Fife have charged a 16-year-old man under the Dangerous Dogs Act.
"The incident took place on May 31 on King's Road in Rosyth.
"A six-year-old boy sustained serious injuries to his hand which required medical treatment.
"A report will be sent to the Procurator Fiscal."
Scottish SPCA chief superintendent Mike Flynn said: "It is ultimately the responsibility of the owner to ensure their pet is kept under control at all times. Anyone with an animal that shows aggression towards another animal or person has a responsibility to rectify this problem immediately through training or veterinary advice.
"Under the Dangerous Dogs Act 1991 any owner who allows any breed of dog to attack a person in a public place may face prosecution and the prospect of their animal being humanely destroyed as a result of their irresponsible actions."