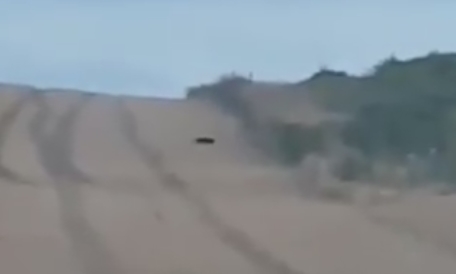 A Fife big cat expert has dismissed claims that a fearsome feline is stalking the region.
George Redpath claims that video footage shot from a Rosyth flat at the weekend shows a large domestic cat, after speculation mounted that the mysterious dark creature may have been an animal such as a puma or jaguar.
The footage was shot by local woman Sabrina Mahmood, and has since created a huge buzz online.
https://www.facebook.com/sabrina.mahmood.39/videos/vb.100001133856259/1391492820898500/?type=2&theater
While Ms Mahmood is adamant that what she saw is one of Fife's fabled big cats, Mr Redpath, from Balmullo, says the footage most likely shows a larger than usual moggie.
"I went there on Monday morning to see the area and to get a sense of scale," the 73-year-old said.
"The ground is hard and there are no footprints, but in my opinion I think it is a large domestic cat.
"But when I spoke to Sabrina she was convinced about what she saw and I am not in a position to doubt that."
While unconvinced about the merits of this latest incident, Mr Redpath remains certain that big cats thrive in the UK, adding: "I've been investigating since the 1990s and there is no question that there are big cats going about.
"I think there are more than we estimate out there to tell the truth, but if they want to be hidden then they will remain hidden."
Scottish SPCA Chief Superintendent Mike Flynn, meanwhile, said that the chances of a big cat stalking the fields of Fife were slim.
https://www.facebook.com/sabrina.mahmood.39/videos/vb.100001133856259/1391976947516754/?type=2&theater
He said: "We have, over the years, received inquiries from members of the public regarding big cats, but there is very limited evidence to support the argument that big cats do exist in Scotland.
"We are not aware of any member of the public being approached or attacked by a big cat and we have never directly witnessed or been involved in any incidents involving big cats.
"Until such time that the existence of big cats is established, we can only advise that the likelihood of coming across such an animal is extremely rare."