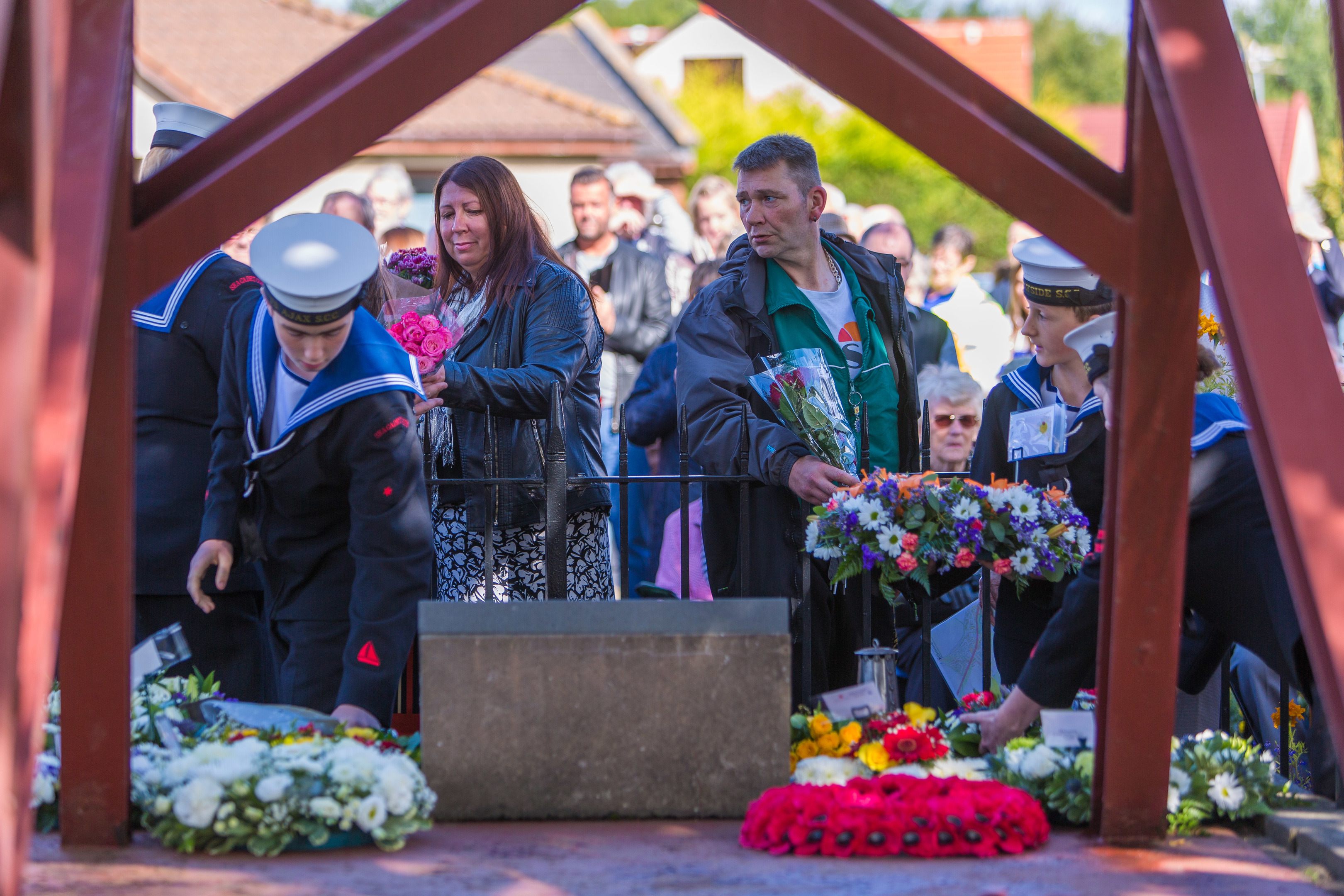 Tears were shed as former miners and relatives gathered to remember those killed in one of Scotland's worst mining disasters.
Fifty years to the day after a horrific fire at Fife's Michael Colliery claimed the lives of nine men, a memorial service saw wreaths laid as the names of the victims were read out.
Tribute was also paid to the heroic rescuers and miners who voluntarily went into the "gates of hell" at the East Wemyss pit to save dozens of other workers.
The blaze on September 9, 1967, tore the Wemyss villages community apart and has left an indelible mark, still fresh in the memories of those who lost loved ones, friends and colleagues.
It closed the mine for good, putting 2,000 people out of a job.
Rev Wilma Cairns, of East Wemyss and Buckhaven churches, led the service on Saturday at the colliery memorial in Main Street.
She said rescuers from across Scotland and fellow miners risked their own lives trying to save those trapped and that the calm evacuation of the pit by those on duty probably ensured only a small number of men were lost.
She said: "We are here to remember that small number of men who were large in heart and courage.
"We know the job these men did but they also had families; they were more than workmen.
"They were husbands, sons, brothers, uncles, grandsons. They were somebody's best friend, someone's neighbour, someone's drinking buddy, someone who went to the football."
Nicky Wilson, president of the National Union of Mineworkers, said: "On September 9, 1967, 311 workers turned up for work as they normally did to earn their corn, to feed their families, to put roofs over their heads.
"At the end of their shift they expected to come up and go home but tragically, like so many other times in mining history, a disaster occurred and nine men lost their lives.
"Three of their bodies were never recovered and lie entombed beneath us."
When the blaze tore through the Michael pit it was the largest colliery in Scotland, employing over 2,000 people.
Mr Wilson said: "When the pit was sealed 50 per cent of these men were never employed again by the National Coal Board."
The men who died were Philip Thomson, Andrew Taylor, James Tait, Harry Morrison, Andrew Thomson, Johnson Smith, Alex Henderson, Hugh Gallacher and James McKay, aged between 36 and 64.
Medals for bravery were awarded to three men, including Andrew Taylor whose body was never recovered.
Buckhaven and Methil Miners Brass Band performed at the ceremony at the colliery memorial, organised by Fife Mining Preservation Society.
As a minute's silence was observed, strings of coloured canaries made by local schoolchildren and tied to trees to represent the victims fluttered in the breeze.