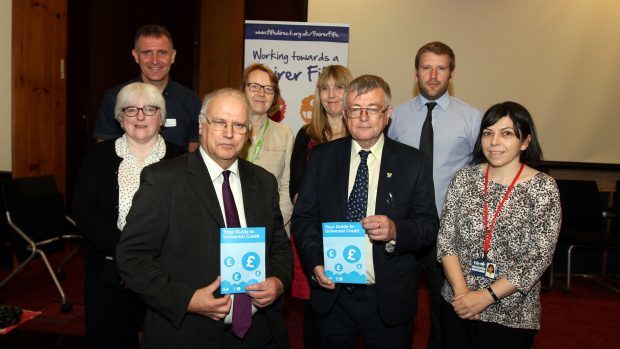 Fears have been raised that Fife families could be plunged into severe financial hardship just before Christmas as changes to the benefits system come into force.
The full roll-out of Universal Credit will take place across the region on December 6, but a typical wait of around six weeks for new claimants before they receive any cash has sparked concerns many could end up struggling to make ends meet.
Calls to push back the Fife roll-out until 2018 to ease the financial burden on families over the festive season have been rejected so representatives from several Fife organisations gathered in Kirkcaldy to discuss how they can best support hard-up households.
Anne Hinojosa, a welfare support assistant with Fife Council involved with community job clubs across the region, painted a stark picture of Universal Credit, first introduced in April 2016.
Problems have included confusion with new online forms, waits of up to one hour 40 minutes on charged helplines, a lack of information about how to access foodbanks and a lack of clarity about how to comply with a 35-hour job seeking commitment built into the system.
She said delayed or incorrect payments had proven "catastrophic" for some, particularly those with direct debits. The six-week wait for initial payments appears to be the major concern.
"The people we tend to see do not have access to credit cards," she told delegates.
"We've had people with no resources, no resilience, and this is a very anxious six weeks for people. They can take an advance but they are treading a balance between eating and heating their homes now and being in financial hardship later."
She also pointed out that people have gone to foodbanks and had been given dried pasta but had no fuel with which to cook it and faced the prospect of six weeks without toilet rolls or sanitary products.
She said: "This is not a dignified experience for anybody."
Norma Philpott, of Citizens Advice and Rights Fife, described Universal Credit as a "tsunami heading our way".
She said: "While the number of multiple debt cases we've seen are down, the extent of the issues facing people are certainly not going down and the indications are that we will be getting a bit of growth in that area."
Fife Council co-leader Councillor David Alexander said it was vital resources are directed to those in most need.
"We are living in a time where there are unacceptable levels of poverty in our society," he said.
"It's vital that we work together and share information with our partners to make sure we do the best we can for people who are facing real challenges on a daily basis."
Council co-leader David Ross said: "Our commitment is to address poverty and inequality, and not just tinkering around the edges.
"Poverty affects everyone – from local shops and businesses who have to close because people have little disposable income to those who can't find employment and find themselves with debt they can't handle."
Professor John McKendrick, an expert on poverty research from Glasgow Caledonian University, said: "There's no use talking about the policy because it's coming in. We need to think about how we as partners can make sure that Universal Credit works as well as it can for the citizens of Fife."