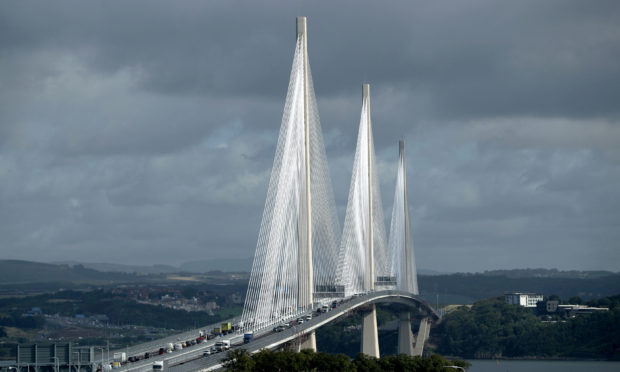 Wind shields on the Queensferry Crossing were effective in keeping traffic moving on Monday morning.
High winds swept the coast of Fife in the early hours of the morning, but according to motorists the shielding did its job.
High winds experienced would have closed the Forth Road Bridge to high sided vehicles, meaning long detours for many drivers, and hold-ups as traffic headed across Fife to the Kincardine Bridge.
However, the new £1.35 billion crossing remained open to all travellers.
Taking to social media a motorcyclist said the ride over the Forth had been "very pleasant".
Ride over on my motorbike was very pleasant. Fair headwind but no getting pushed side to side. Great improvement!

— Steev (@theweesteev) October 2, 2017
"Fair headwind but no getting pushed side to side.
"Great improvement!" said @theweesteev.
Sandy Duff said that the wind shield worked "brilliantly".
"Couldn't feel the wind once I was on the bridge," he added.
The bridge, opened by the Queen last month, has 3.5 metre barriers installed which are designed to break up and deflect gusts of wind.
There are permeable screens which allow some of the air through and scoops the rest up and over the bridge, preventing turbulent wind conditions across the deck.
At the time of installation, Dr Mike Glover, the technical director for project employers delivery team, said: "These wind shields will provide vehicles with protection from the frequent gale force winds – reducing traffic incidents and keeping people safer."