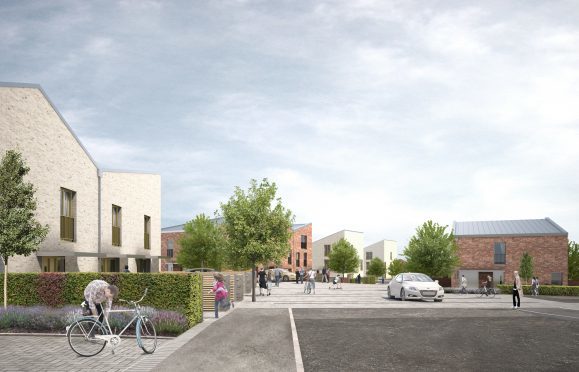 One of Scotland's most disadvantaged areas will be given a new "civic identity" when work to rebuild its shopping area is complete.
The next stage in the regeneration of Inverkeithing's beleaguered Fraser Avenue has been reached with the submission by 7N Architects of a detailed planning application for new shop units.
They will form a key part of the regeneration project for the wider estate, with the existing shops, which are currently located at the base of an empty block of flats, to be demolished during a rolling programme of demolition and construction.
The pavilion design for the new shops, next to the local bowling club pavilion, is meant to blend in with the residential area.
Working on behalf of Fife Council and in collaboration with Kingdom Initiatives and Campion Homes, the construction of the new shops will run in parallel with the delivery of the first phase of new terraced housing.
Housing services convener Judy Hamilton said: "I am delighted the project has reached another significant milestone with the submission of the planning application."
Built in the 50s and 60s, the street was in terminal decline for many years, suffering from low demand and high turnover.
The mainly residential area started off well.
When first built people moved into the area, the houses – mainly block after block of tall flats – were seen as luxurious compared to their previous homes.
But standards changed and with the flats increasingly hard to let, the area was run down.
But the long running £26 million project has ambitious aims to breathe new  life into the area.
The work, which is being carried out in four phases, will see the area razed to the ground.
In 2015, Fife Council appointed Kingdom  to be its preferred development partner on the project and agreed to a full demolition and complete redevelopment of Fraser Avenue for low rise housing.
Since then, the council and Kingdom has consulted with tenants and residents to find out what was important to them and what they would like to see developed in the area.
The first tenants are expected to be able to move in next year with the overall project due to be completed in 2021.