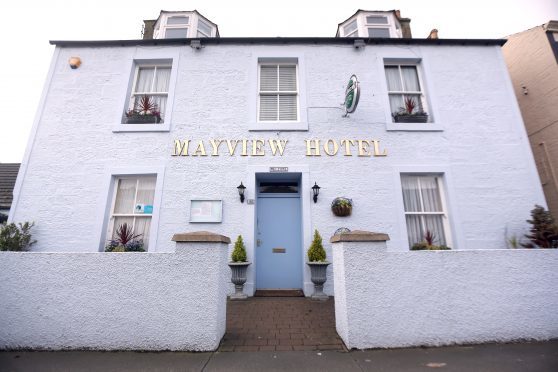 A hotel at the heart of an East Neuk community has closed its doors after a crippling increase in business rates.
St Monans' Mayview Hotel saw its bills almost double from £16,300 to £29,700 as a result of the non-domestic rates revaluation which hit the hospitality industry particularly hard.
The family-run business, which hosted community events and meetings as well as weddings and celebrations, is making its four full-time employees redundant.
It is hoped it will reopen but Graham Hughes, whose parents Ena and the late Tom took it over 20 years ago, said its future depended on an appeal against its rates valuation
The hotel has applied for the 12.5% increase cap, part of the Scottish Government's transitional relief scheme but is yet to benefit and it could be some time before the result of its appeal is known.
Graham said: "We had to decide whether to keep going through the winter or make sure we protected our staff, some of whom had been with us for 20 years, so redundancy packages were quite considerable.
"It was becoming more of a gamble to keep the doors open. You hear about places going into receivership and we wanted to avoid that."
A notice from the family outside the hotel, which has been up for sale for two years, states that the rates hike in its rates put it at a disadvantage against other local establishments.
It said the business had been "swimming against the tide" and thanked customers for their support and understanding.
Local politicians criticised the impact of the rates revaluations on the Mayview Hotel and others which have seen bills rocket.
North East Fife MSP Willie Rennie said: "The government needs to think again about its approach to business rates.
"Huge hikes like the one faced by the Mayview are having a detrimental impact on business across Scotland.
"The Mayview Hotel is a fine local establishment and its closure will leave a big hole in the local community.
"I am seeking a meeting with the owners to discuss how I might be able to assist."
East Neuk and Landward councillor Bill Porteous said: "The Scottish Licensed Traders Association, opposition politicians and local councillors have all urged the Scottish Government to act to help but it has not listened.
"Instead this year it increased business rates and failed properly to implement a rates relief programme.
"The Mayview Hotel is a community asset with staff and family who have worked tirelessly and proactively in the community of St Monans.
"It's a very sad day for all, taking the heart out of our village."
News of the closure has caused dismay among villagers and St Monans' many regular visitors.
On social media Len Over described it as "as big as London losing Buckingham Palace".
Emil Mcmahon posted: "A sad day indeed, this place is part of the very fabric of St Monans and will be sadly missed by those who frequent it regularly and those (like myself) who visit whenever we are in the village."
A Scottish Government spokesperson said: "The Scottish Government has committed to around £660 million of rates relief this year, including a cap on bills targeted at the hospitality sector.
"It is for businesses to apply for relief and for councils to administer it.
"We would encourage all councils to promote rates relief with local businesses to ensure they maximise take up."