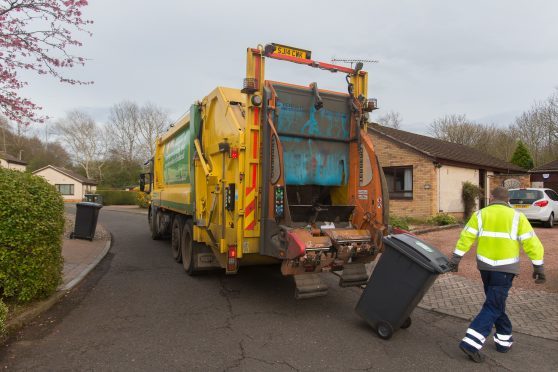 No decision has been taken over the possible introduction of four-weekly bin collections, Fife Council has maintained.
More than two years after the introduction of two trials aimed at determining the future of waste collection in the region, the local authority says it has yet to decide on how to proceed.
That is despite the publication of survey findings showing more than three quarters of householders in one trial rated their revised service as "very good" or "good".
Though the two schemes are to continue in the Glenrothes area for the foreseeable future, the council's environment convener said a decision on adopting the changes elsewhere in the region was yet to be taken.
Councillor Ross Vettraino said: "I want to stress that no decisions have been made on any further roll-out of the recycling trials in Fife.
"The ongoing survey is just one part of the extensive monitoring and analysis that is being undertaken in relation to the recycling trials.
"The council recognises that refuse collection is an essential service and is extremely important to local people, which is why the council is being thorough in the analysis of the data gathered on the trials and in the preparation of final reports."
Two trials are currently taking place in the wider Glenrothes area, involving around 4,000 households.
One sees general waste collected every four weeks, with increased 
collections of cans and plastics.
The other half of the trial is experimenting with three-weekly collections for landfill, plastic and cardboard bins, though recycling rates are not expected to be as high.
The schemes were developed with a view to adopting a new, long-term strategy for waste collection due to the spiralling costs of sending rubbish to landfill sites.
While the response to both trials has been largely favourable, several issues have become apparent.
Visits to recycling centres have increased in both trials areas, with householders making up to four more trips a year, while almost 300 respondents to the survey said that their landfill bins were full or overflowing come collection day.
While more than 70% of the 477 responses were satisfied with their new collection arrangements, 20% of those in one of the trials rated service as "poor" or "very poor".
The two pilots are expected to continue until a report is put to committee for the consideration of councillors, though a date for this is yet to be announced.