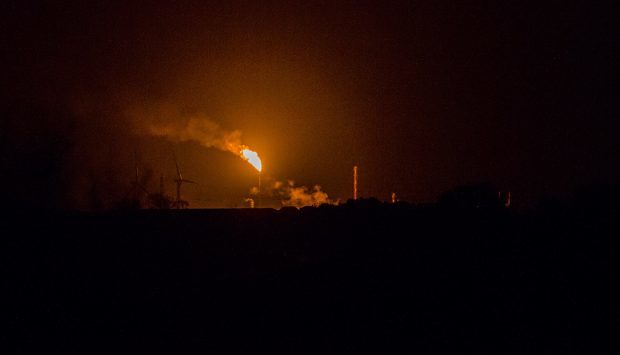 Operators of the Fife Ethylene Plant at Mossmorran say things should be back to normal by Monday morning after a period of flaring caused concern among communities.
ExxonMobil Chemical has come in for criticism from various quarters after a small gas leak at the plant near Cowdenbeath prompted the need for a complete shutdown – and with it the return of the giant flare which lit up the night sky and could be seen for miles around.
Locals have complained about the noise, vibration and light nuisance caused by the flaring process, and the latest instance – which comes just a matter of months since a prolonged period of flaring was needed in June – has led to renewed calls for further action to be taken.
Flaring is expected to diminish over the next 12 hours or so and the company confirmed in a statement that "providing there are no complications", it anticipates that normal operations will resume overnight into Monday morning.
A statement late on Sunday morning added: "ExxonMobil Chemical has begun the process to re-start normal operations at the Fife Ethylene Plant at Mossmorran following completion of work to resolve an issue with the plant's refrigeration system.
"As we mentioned in our statement yesterday, local residents may notice greater variation and possibly some interruptions in the flaring until then.
"We continue to do all we can to minimise any disturbance to the local community and apologise for any concern or inconvenience caused.
"Safety and environmental protection are our highest priorities, and we continue to keep all relevant authorities informed.
"The flaring, which began just before 5pm on Friday afternoon, is an essential part of the plant's safety systems and there is no danger to local communities or employees.
"We will continue to work diligently to keep you informed with further updates until normal operations are restored."
Local MP Lesley Laird believes monitoring procedures and how various impacts are assessed should perhaps be revisited to ensure they are fit for purpose.
"Flaring is alarming for people and I don't think the operators necessarily bring forward the most easy to understand explanation of what has happened and what's going to be done about it," she said.
"People do get concerned.
"The previous episode in June was much more severe in terms of noise and vibration, but flaring does cause particular alarm."
A spokesperson for the Scottish Environment Protection Agency (SEPA) said it was continuing to liaise with ExxonMobil Chemical to ensure the operator is doing all it can to minimise the impact of the flaring on the local community.
"Flaring is required to enable a controlled shutdown of the plant and allow the plant to restart safely," it said .
"We will be following up with the operator in order to understand what actions they intend to take."
For much more on the Mossmorran flaring, see Monday's Courier.