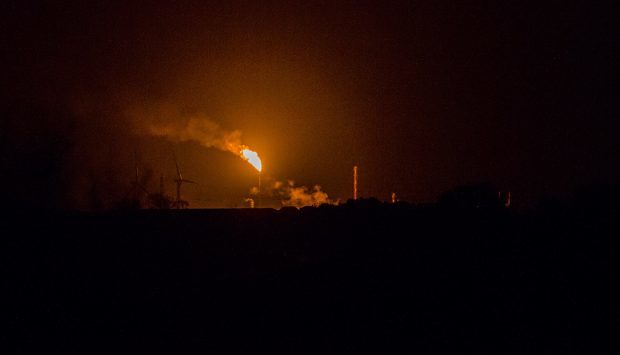 Flaring at Fife's beleagured Mossmorran site is expected to continue for the rest of Monday and into Tuesday.
Long-suffering communities close to the Fife Ethylene Plant near Cowdenbeath have had to put up with noise, vibration and bright light since an emergency shut down prompted by a gas leak on Friday.
While operator ExxonMobil had expected the chemical plant to be back up and running normally by Monday morning, it has been revealed locals may have to suffer for a while longer.
Environment watchdog Sepa said it would be talking to ExxonMobil to understand what actions they intended to take.
In a statement, Sepa said: "Sepa is continuing to liaise with ExxonMobil Chemical Ltd regarding the current flaring at Mossmorran to ensure the operator is doing all they can to minimise the impact of this activity on the local community.
"The site has been flaring since Friday October 27 following a process issue.
"Flaring is required to enable a controlled shutdown of the plant and allow the plant to restart safely.
"We have been advised that flaring should diminish over the rest of the day and into tomorrow."
While ExxonMobil has apologised for any concern or inconvenience, it has insisted the community is not in any danger.
A spokesman said it was hoped the plant would return to normal within the next 12 to 18 hours after "an instrumentation issue" in the early hours of Monday morning delayed the process to re-start operations.
Process manager Craig McCafferty said: "We apologise to the local community for the continued flaring.
"It is unfortunate, but not unusual, for issues to arise when restarting complex industrial processes of this kind and I would like to assure residents that we are doing all we can to minimise any disturbance and to return the plant to normal operations as soon as possible."
He added: "Safety and environmental protection continues to be our highest priorities and all relevant authorities are being kept fully informed."
The latest flaring, which follows prolonged issues in June, has prompted criticism from local politicians.
Mid Scotland and Fife Green MSP Mark Ruskell said: "The latest incident once again shows the contempt in which the operators hold neighbouring communities who have flooded me with complaints."