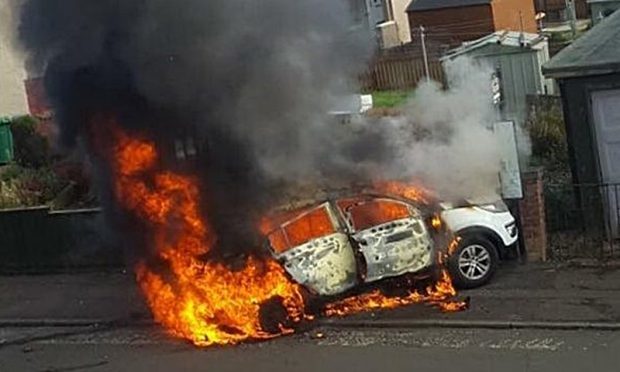 A man was pulled from his burning car after it dramatically burst into flames in a Kirkcaldy street.
Members of the public rushed to the driver's aid as the vehicle was engulfed by the blaze in Macindoe Crescent, close to St Andrews High School, on Thursday lunchtime.
The driver was treated at the scene by paramedics as fire crews tackled the flames but incredibly he did not need hospital treatment.
Neither police nor the fire service could confirm local reports the fire was caused by an exploding gas cylinder inside the Kia Sportage.
People living nearby described the blast as being like an earthquake.
Darren Hepburn said: "I felt the house shake and heard a loud bang.
"I ran to the window and saw the back of the car on fire and a few guys pulling out an older guy. Thankfully, he was okay.
"Apparently there was a gas tank in the back that blew up and started the whole thing."
Darren said that by the time the fire service arrived the car had rolled several metres down the street and crashed into a bus stop.
"The area had been cleared out by then. It had been on fire for about five minutes before it rolled," he said.
"The police weren't letting anyone leave their houses until they knew the tank was dealt with."
A spokeswoman for the Scottish Fire and Rescue Service said they were alerted at 1.19pm to reports of a car on fire.
"Two fire appliances were immediately dispatched to the scene and firefighters used powerful water jets to extinguish the fire," she said.
"One casualty was treated at the scene by paramedics and crews left the scene after ensuring the area was made safe."