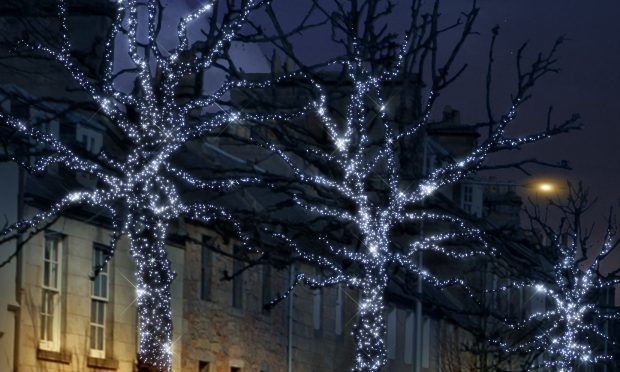 St Andrews is to sparkle through the winter with the launch of a £60,000 lighting installation.
Ceilings of lights are to illuminate Bell Street and Church Street and trees in South Street will be lit up. A surprise special feature will be created in Market Street.
Lasting from December to February, it is hoped the scheme will extend the town's appeal through the quieter months.
Cash was contributed by BID St Andrews, Fife Council, the town's common good fund and the Hamish Foundation charity.
Rhonda McCrimmon, manager of the business improvement district, said: "We have improved and expanded the scope of the scheme for 2017 to include the South Street trees and a fairy-tale ceiling of lights on Bell St which we hope will attract more visitors to our town at this magical time of year."
Blachere Illuminations has begun installation before the official switch-on on December 1, coinciding with the annual beating of the retreat event.
They will illuminate the St Andrew's Day celebrations on December 2, also hosted by BID St Andrews, which will include a street ceilidh, lantern procession and fireworks display.
Rhonda said: "There's no better place to celebrate our national saint's day but in the town 'at the ends of the earth' where, legend has it, St Andrew's bones were brought."
The festival is supported by the Scottish Government through EventScotland.
Dr Alasdair Allan, minister for International Development and Europe, said: "Celebrating St Andrew's Day presents the perfect opportunity for Scots to keep the spirit of St Andrew alive, by coming together and sharing in something special.
"There is probably no better place to mark this time of year than in St Andrews itself and the town will no doubt look its best and be at its most vibrant with events including the street ceilidh, lantern-lit procession and fireworks.
"The Ends of the Earth Festival is a fantastic way for residents and visitors to share in our rich Scottish culture while marking Scotland's special day."
More details about the festival are available at
https://www.standrewsday.com/
.