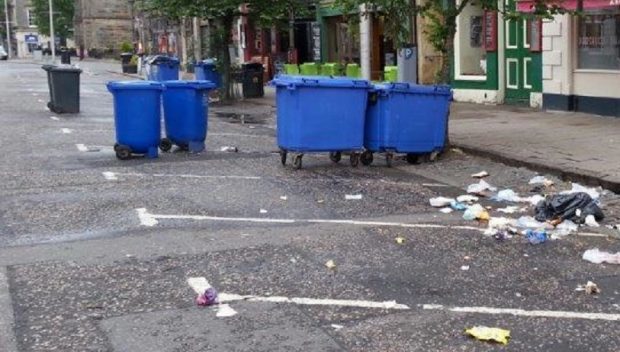 Unsightly and abandoned bins in St Andrews threaten to ruin the reputation of the historic town unless action is taken to tackle the problem.
That's the view of community leaders, who have warned visitors arriving for high-profile events over the coming weeks will take a dim view of domestic and commercial bins being left out on the streets.
The issue has been raised repeatedly by St Andrews community council, which has previously called for bins to be labelled with the name and contact details of the person or business responsible.
However, no solution has been found, and Callum MacLeod, community council chairman, has said enough is enough.
"The frustration and even anger I am hearing being expressed at meetings and in the street and seeing in social media about the number of large commercial bins blighting the town centre is palpable and growing," he explained.
"The problem is particularly bad on South Street and is at its very worst in the area outside Holy Trinity Church, an area which has recently seen huge amounts of public money spent on improving the physical appearance of the square.
"Residents and visitors must be astonished that such a basic function as refuse collection in the centre of a major tourist destination cannot be satisfactorily managed."
St Andrews Labour councillor Brian Thomson shares the community council's concerns.
"Some residents and businesses are clearly using the pavements as their bin store, and stronger enforcement measures are required to be taken by Fife Council," he said.
"I've chased Fife Council officers for feedback on a review of Edinburgh City Council's apparently successful scheme – which imposes strict limitations on the period that bins can be left out on pavements – and it may be possible to introduce something similar in St Andrews.
"Another measure that could stop the situation getting even worse, which is very easy to enforce, relates to planning applications for cafes, restaurants, bars and hot food takeaways. If there is no adequate bin storage, applications should be refused."
Mr Thomson said important upcoming events such as the Remembrance Sunday service, Beating the Retreat, the Christmas lights switch on and St Andrew's Day celebrations made the issue of rogue bins a "pressing concern".
Ken Gourlay, Fife Council's head of assets, transportation and environment, said the authority was tackling the issue on a number of fronts.
He said: "Officers are making more household visits to speak directly to residents and encourage them to remove bins from the street as soon as they've been emptied.
"Our enforcement officers also visit businesses to check they are meeting their legal responsibilities.
"In addition to these regular visits, officers will also make special visits to both households and businesses before the forthcoming events to ask for their co-operation in removing bins from the streets."
He said transferring the Edinburgh scheme to Fife was not so straightforward since it would require extra permanent resources to enforce it, but a partnership with Zero Waste Scotland to develop a litter strategy and litter prevention action plan for Fife could include the management of commercial bins on streets.