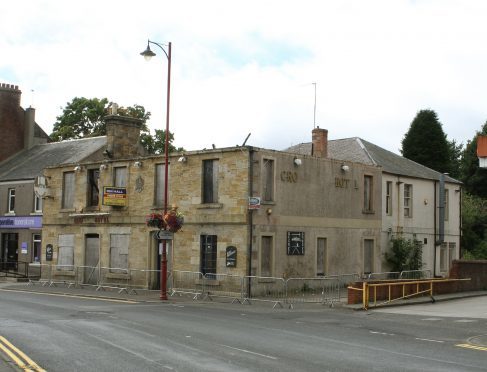 Councillors have launched a bid for action at two of west Fife's most recognisable buildings.
A feasibility study has been ordered to look at the future use of Cowdenbeath's town house which has lain empty since local authority staff were moved out around 18 months ago.
Officers are also looking into the possibility of making a compulsory purchase order for the town's at-risk Crown Hotel, branded a blot on the landscape.
Both buildings are in the High Street in the centre of town, close to where a major development is due to begin next year.
The moves follow a motion to Fife Council's Cowdenbeath area committee by Labour councillors Gary Guichan and Alex Campbell.
Mr Guichan described the town house as an iconic and much-loved building.
"It saddens many people to see it closed and unused," he said.
"With the redevelopment of the south end of the High Street hopefully due to start in the new year, we also feel that making progress with the north end is equally important."
He said selling the building would be a backward step for the town and added: "We are instructing the relevant officers to undertake a feasibility study to explore possible uses for the building and report back to this committee."
The former Crown Hotel has been empty for more than a decade and has been on the Buildings At Risk Register since 2009.
It has no roof and the entire building is in a state of serious disrepair.
The motion to committee said: "The progressive decline in the condition of the building serves to increase the risk it presents to the community."
Mr Campbell told councillors: "The impact presented by the derelict condition of a building in such a prominent position is a major impediment to the realisation of future opportunities for redevelopment and regeneration at that end of the town."
Council officers will look at the feasibility of a compulsory purchase order and report back on the any financial and legal implications early in the new year.