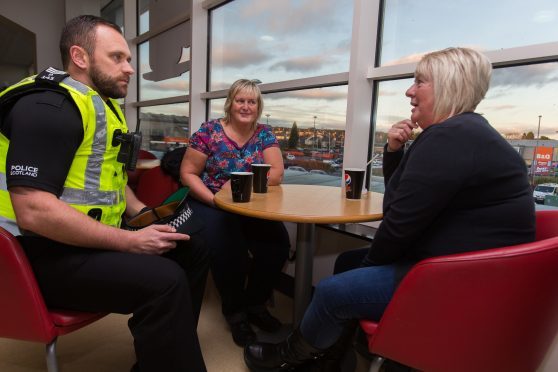 Police officers known for their sense of humour have extended a serious invitation to the public to meet them for coffee.
Levenmouth Police, famous for their Twitter account and witty hashtags, have launched "Coppuccino" to encourage people to talk to them in local coffee shops.
It is thought the informal settings will tempt those who would not normally engage with officers to come and chat.
The approach and its puntastic name appears to be working, with the first Coppuccino event declared a success.
Inspector Tom Brown from Levenmouth police station said: "The intention of Coppuccino is to allow officers to engage with members of the public, especially those from harder to reach groups, in an informal setting such as over a coffee.
"We understand that we need to be flexible in order to engage with our diverse communities and by meeting with officers in this way we hope it will allow members of the public to come and discuss their views and any local issues they may have.
"The first Coppuccino held in a local supermarket was well received by the public and we hope to continue this initiative in the coming months."
Mr Brown said the police rely heavily on the support of the public in Levenmouth.
"Whilst it's got its problems, the majority of people support our police and what we're trying to do," he said.
The Levenmouth Police Twitter account uses humour and Fife dialect to get its message across and has attracted more than 11,600 followers.
One recent tweet about a driver arrested for driving while disqualified and without insurance read: "Loddy huckled for driving whilst disqualified & nay insurance. Car seized . Unlike Chris Rea, this loddy won't be #DrivingHomeForChristmas #JustDinnae.
Mr Brown said: "Our Twitter account is local and inclusive so everybody follows it.
"We've got the elderly, criminals, school children and ethnic groups following us."
Levenmouth councillor and Fife Council co-leader David Alexander welcomed the approach.
"Speaking the way people speak helps," he said.
"It's humanising the whole process and one-to-ones are always good because that's when you can let go and really talk."