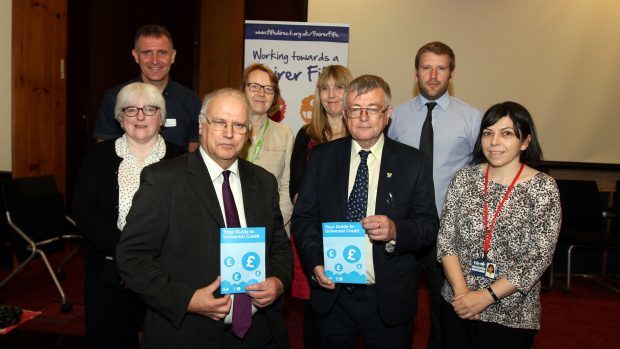 Worried campaigners are to stage a demonstration on Wednesday as the Universal Credit roll-out hits Fife.
Members of Fife People's Assembly will protest outside Glenrothes job centre from 11am amid fears the new benefit will plunge people into poverty in the run up to Christmas.
Fife is the only Scottish region to move to Universal Credit in December as the UK Government gradually changes different forms of assistance into a single monthly payment.
Opponents claim the system is fundamentally flawed however, with delays to payments leaving new claimants with no income for up to six weeks.
While Chancellor Philip Hammond announced some changes in his budget statement last month, these do not come into effect until February, leaving hundreds of Fifers facing the prospect of going without a single payment over Christmas.
Fife Council has pledged urgent financial help for those most affected by the change.
Co-leader David Alexander said: "Despite our bitter opposition to Universal Credit, it's here and it's likely to cause a lot of misery for many people.
"It really couldn't have come at a worst time of year – a time when people traditionally struggle financially.
"As a council we've already allocated around £3 million to help minimise the impact of the UK Government's changes to welfare reform and 16 welfare support assistants are now employed to help support communities through the changes."
The council is working with other agencies including Citizens Advice and Rights Fife (CARF) and have developed a new guide, Your Guide to Universal Credit, which can be downloaded from www.fifedirect.org.uk/benefits.
Claimants are also being given training in digital skills to help them through the online claims process.
Free access to the internet is available at all of Fife's libraries, local offices and community job clubs.
Key services will also be open over Christmas and new year to cope with the expected surge in enquiries.
Council co-leader David Ross said: "We've expressed our concerns about these changes and the timing of them over and over again.
"We have support available and have agreed that we will give tenants who qualify a discretionary housing payment (DHP).
"We have also arranged for help to be made available through the Scottish Welfare Fund.
"This will provide crisis grants tailored specifically to those who meet the criteria and are applying for Universal Credit, helping them without increasing their debt burden."
Anyone who does not qualify for DHP or a crisis grant is being directed to Conduit Scotland, a not-for-profit alternative to high-cost short-term lenders.
Anyone having difficulty budgeting or problems with debt can visit their local CARF office or call them on 03451 400 095.
Mr Ross added: "Please don't wait until things get out of control and you are facing issues like rent arrears and debt.
"Help and support is available so please get in touch."