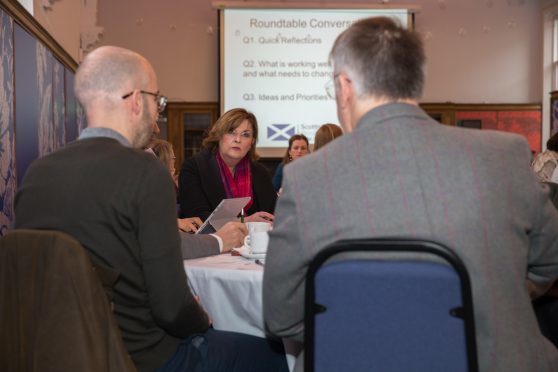 Fifers are being encouraged to have their say and help shape Scotland's new culture strategy.
Following sessions held in July in Dundee and Inverness, it was Dunfermline's turn this week as the Auld Grey Toun played host to a Culture Conversation which aimed to get people thinking about how the Scottish Government should work with artists, cultural organisations, communities and individuals across the country.
Heather Stuart, chief executive of Fife Cultural Trust which hosted the event at the new Dunfermline Carnegie Library and Galleries, said the kingdom was an ideal place to talk about all things cultural.
"Fife has a proud history in relation to cultural strategy, as it was Jennie Lee — the MP originally from Lochgelly, who was Arts Minister in 1964's Government — who brought forward the first and only white paper on culture on the arts to date," she commented.
"Jennie's aspiration was that the arts should occupy a central place in British life and be part of everyday life for children and adults.
"The sense of belonging, of purpose and sheer pleasure, that engaging with culture can achieve is extensive — whether it's visiting a museum, taking an art class, using a library or learning, or going to a festival.
"The range of cultural opportunities available in Scotland is without doubt evidence of a strong and confident country and we should highlight and celebrate that at every opportunity and nurture its further growth and development.
"At a local level in Fife, the vision of our own cultural strategy is: 'that culture in Fife is renowned, valued, diverse, and embedded in its people, communities, and landscape.'
"I think, now, in 2017,  we have a critical opportunity to deliver on our aspirations for culture, the potential for which is as strong now as it has ever been."
In addition to the public events, a dedicated resource pack has also been made available online for all organisations, networks and groups interested in hosting their own 'culture conversations'.
Fiona Hyslop, cabinet secretary for culture, tourism and external affairs, urged everyone to get involved in the process.
"This engagement is a crucial part of shaping a culture strategy for Scotland and we want the views and voices of many to be heard and reflected in it," she said.
"The previous events provided many interesting and important perspectives — from the need for greater geographic equality to how to better support artistic activity at a local level.
"I encourage everyone with an interest to contribute to the strategy by going along to the public events, hosting their own culture conversations or sharing their thoughts and ideas about priorities for culture in Scotland online."
The new resource pack is available here.