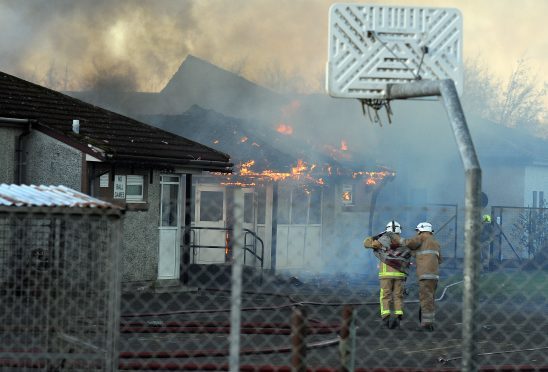 Parents and carers of children caught up in the fire drama at a Fife village's primary school have spoken of their relief that no-one was seriously injured or killed.
The community of Cairneyhill is still coming to terms with the ferocious blaze which ripped through buildings at Cairneyhill Primary School in the village's Northbank Road at around 1pm on Friday.
Cairneyhill Primary School fire: Staff praised for leading children to safety
A full investigation is being carried out into the exact cause of the fire, and the school will remain closed on Monday and Tuesday at least as Fife Council continues to draw up contingency plans to ensure youngsters can continue their education as soon as possible.
In the meantime though, villagers have rallied round and are clubbing together to try and replace many children's belongings – such as school bags, coats, uniform and gym kits – which were destroyed in the fire.
The school's parent council has also issued a request for donations and has updated its available uniform list.
More than 30 firefighters were in attendance at the height of the blaze on Friday afternoon, although thankfully up to 200 children and staff managed to evacuate the building and seek shelter at the nearby Cairneyhill Parish Church.
Parents and guardians were then reunited with their children throughout the afternoon.
The fire could have had far more serious consequences though, had most of the pupils not been outside playing or finishing lunch in the gym hall at the other end of the school from where the fire started when it broke out.
Mum Jennifer Rippin described the whole episode as "very scary", adding: "I'm pretty sure it would have been a different story if it had happened half an hour before or after and all the kids were in class, because it went up so quickly.
"The fire was through the roof within minutes and all the kids watched the roof collapse in from the playground.
"The outcome could easily have been very different if it wasn't for the quick-thinking of the amazing staff – we will never be able to thank them enough.
"Definitely someone looking down on our wee village."
Fellow mum Tiffani Baillie echoed those sentiments on social media and has decided to set up a JustGiving page, with all donations being passed on to the school for them to do something special for the children with.
She added on Saturday morning: "I don't think I have ever been so happy to be woken up at six o'clock in the morning before!!
"Things could have been so different."
For more, see Monday's Courier.