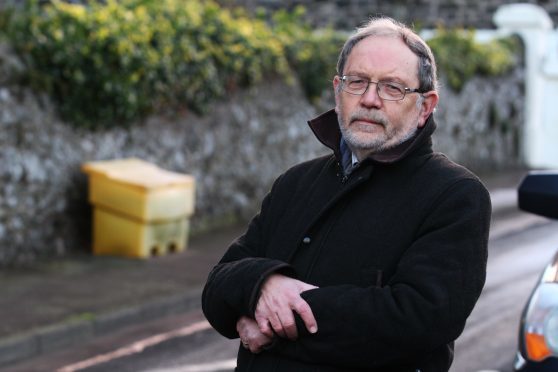 Communities hoping to help themselves fight the big freeze have been left furious by the removal of grit bins across Fife as winter begins to bite, it has emerged.
The Courier has learned that hundreds of grit bins have been taken away from streets throughout the region as part of a cost-cutting review.
They will not be redeployed elsewhere.
Fife Council's policy is now to provide grit bins on minor housing estate roads and footpaths not on the primary gritting network, with bins on the priority routes being removed since they are already receiving the highest level of road gritting service.
However, the move has not gone down well with many residents.
Pointing out that 260 grit bins have been axed in north Fife alone, Lib Dem group leader and Tay Bridgehead Councillor Tim Brett has urged council chiefs to look again at the issue.
"I've had complaints over the last 10 days or so from literally every part of my ward," he revealed.
"I'm a great believer in providing people with the tools to do things themselves if they want to.
"While the council can say 'we're gritting the roads', my experience is that the council is very slow to grit the pavements at our end of the Kingdom and that's a major worry for me."
Cupar Councillor Margaret Kennedy has also questioned the decision, and called for a review of the determining factors behind the new arrangements.
"It would seem far more sensible to me to have these bins exactly where people will use them and not where Fife Council thinks it would be best," she said.
"I am concerned that an arbitrary view is being taken with no cognisance of wider environmental factors.
"There have been a number of areas, across the ward area, which have requested grit bins over the years.
"This has not been on the basis of 'we just want one', it has very much been tied into factors such as sloped areas which make moving around problematic at best, and unsafe at worst for some in our communities."
Derek Crowe, roads and transportation service manager, explained: "We have a budget saving target to reduce the cost of Fife's winter service, including grit bins.
"The main cost of the grit bin service is not their provision but the servicing of them and if we just redeploy them we will not achieve the budget saving.
"By comparison, the provision of grit bins is much higher in Fife than neighbouring councils and there are now so many (circa 4,000) that in the event of a severe weather event it is unlikely that sufficient resources could be enabled to meet the policy standard of refills within five days.
"A review of our winter services policy is currently under way and an informal member/officer working group has been established to look at options for the delivery of a sustainable winter gritting and snow clearing service within a reducing budget envelope and this will be reported to committee in late spring/early summer 2018.
"Fife currently has a very good level of service for winter gritting and grit bins, but it must be provided within a finite budget and we are endeavouring to achieve that balance."