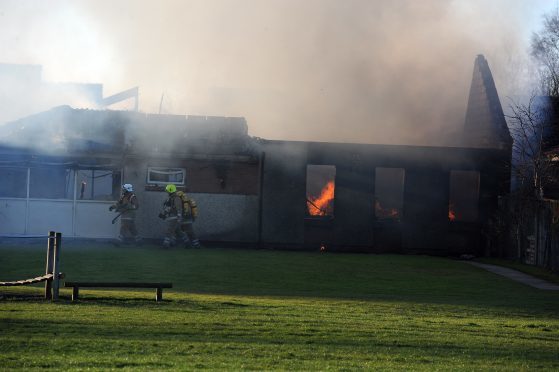 Pupils and staff of Cairneyhill Primary School face months of disruption following last week's major fire.
The blaze devastated the infant section of the building,  and the whole school community is to be temporarily moved seven miles to Tulliallan Primary at Kincardine until Easter, when it is hoped they can return to their own school.
The changes take effect from Friday, when P1 to P5 pupils will be accommodated within Tulliallan Primary School, Kincardine. P6 to P7 classes will be accommodated in the Tulliallan Community Centre.
Additional support pupils will be accommodated at Tulliallan Primary School. Their transport arrangements will remain in place, but the timing of collections and drop-offs will change.
Nursery pupils will go to Crossford Primary School.
The full details of the plans are available on the Fife Council website.
Shelagh McLean, head of service, said: "I want to thank again all the Fife Council staff who have come together to find alternative accommodation as quickly as possible. We have also had support and offers of help from Fife community partners and neighbouring Perth and Kinross Council for which we are very appreciative.
Cairneyhill Primary School fire: Staff praised for leading children to safety
"The majority of the Cairneyhill Primary School children will be accommodated within Tulliallan school building, with some children in the nearby community centre. We will of course transport children to and from Tulliallan school and those arrangements are currently being finalised.
"Nursery children and staff will be accommodated at Crossford nursery. Again transport will be arranged for them. We are currently still negotiating alternative accommodation for the Cairneyhill out of school club."
Cairneyhill Primary School fire: Drone footage reveals extent of damage
The council says the rear of Cairneyhill Primary will have to be rebuilt, although the timescale is not yet known.
It is hoped all the pupils will be able to be back on site in April 2018.
Headteacher Fiona Hall said: "I can't thank the staff, pupils and the wider community more for the way they have come together following the fire.
"We have had so much support from a huge variety of sources both within and outwith the council.
"I personally want to thank the staff, children and parents of Tulliallan for sharing their school with us for the time being. It is vital that we get all our children together as soon as we can so that we can talk about what has happened and start to get back to normal.
"I also want to publicly take this opportunity to thank my amazing staff team for their care, calmness, support and professionalism and my amazing children who I always say are the best and they continue to prove this even in such awful circumstances."
Police confirm Cairneyhill Primary School fire was "non-suspicious"
Tulliallan headteacher Elspeth Gow said: "For those parents/carers and members of our wider community who remember our fire, we can empathise with the Cairneyhill school and community. At the time what stood out for me as the headteacher was the over-whelming support from our village, colleagues from other schools and Fife Council.
"Reflecting back on how important it was to keep our school community together, we are happy to support Fife Council's decision to re-locate Cairneyhill Primary School to our campus."