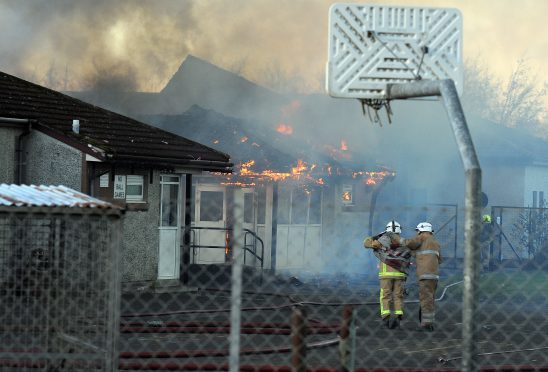 Several weeks ago I was bemoaning the apparent lack of community spirit when it came to celebrating the likes of Halloween and Bonfire Night.
It just seemed to me that people tend to be a lot more insular than they used to be in the old days, don't really know their neighbours, and generally don't interact in their communities as much as perhaps previous generations did.
However, having followed events since the Cairneyhill Primary School fire earlier this month, I'm happy to report that community spirit is still alive and well in some parts of the kingdom.
It's been so heartening to see people, not only those living in the village but also from neighbouring towns and villages, coming together to support those affected by the fire and actively do things to try and put a smile on children's faces.
It was a traumatic time for everybody on the Friday when the fire broke out, but all the mums and dads I've encountered have had nothing but praise for the operation which swung into place with almost military precision to reunite shell-shocked kids with their loved ones throughout the afternoon.
The teachers and staff were absolutely first class, and handled what could have been a situation fraught with panic and confusion with the utmost professionalism.
The same could also be said with the countless members of staff involved in getting the children and teachers back into a classroom setting within a week.
As headteacher Fiona Hall rightly pointed out, it was massively important — and cathartic — to get the children back as soon as possible after the fire to talk about what happened and move forward.
But what struck me in particular about the days that followed was how the community rallied around to provide for those in need, and those who had lost belongings in the blaze.
Social media was full of individuals, groups and businesses either collecting school uniforms, coats and bags to replace those which had gone up in smoke or collecting cash which could be used to do something special for the kids.
Fife Sports and Leisure Trust offered Cairneyhill pupils free swims to help mums, dads and carers deal with the children's enforced break away from school, and other businesses — like Little World of Play — also threw open their doors for nothing to affected youngsters.
I even had phone calls from people in Edinburgh who had seen the story and who wanted to help.
Though the story itself was shocking and there are perhaps still questions to be answered in terms of how and why the fire started, the community's response to it has gone a long way toward restoring my own faith in humanity.