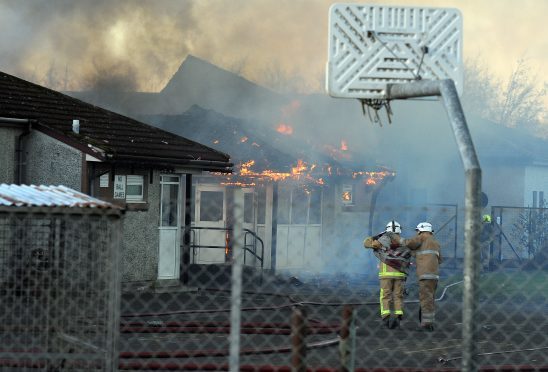 Serious doubts have been cast over the safety of Fife schools following the fire which engulfed a village primary last week.
Parents of pupils at Cairneyhill Primary School have called for answers after learning that Friday's blaze, which destroyed the junior building, was only discovered when a security alarm – and not a fire alarm – was activated.
The alert led to the safe evacuation of around 200 children as more than 30 firefighters and seven appliances tackled the incident.
Questions have now been raised over why simple smoke detectors were not fitted at Cairneyhill – and the safety of the wider school estate.
The Courier has been contacted by several parents who fear last week's incident could have had far more serious consequences.
One mum, who did not want to be named, said: "When you put your children to school in the morning you automatically assume basic things like smoke alarms are in place. I don't think we can assume anything any more.
"I've been thinking all week about the 'what ifs', and I dread to think what could have happened had the kids not been on their lunch.
"This would explain why the children were initially told not to worry and that it would be nothing because it was the burglar alarm and not the fire alarm.
"If anything else, it's hard to believe something as simple as a smoke detector might have saved our little school."
Fife Council's head of education Shelagh McLean insisted the region's schools comply with safety requirements.
She said: "Legislation requires that our buildings are fitted with 'appropriate… means for giving warning in the event of fire' (Fire Safety (Scotland) Regulations 2006).
"To determine what is appropriate we apply the guidance contained in the Scottish Government Practical Fire Safety Guidance.
"In the case of Cairneyhill Primary School, an electrical fire alarm system with manual call points is an acceptable system and is common for this type of building across the UK.  The building is single-storey, has a simple layout with escape routes from classrooms directly to safety and occupants who are aware and familiar with the premises.
"A fire would be quickly identified by occupants and the alarm raised and occupants evacuated before escape routes could be compromised, which was the case during the incident at Cairneyhill.  This is reinforced with termly fire drills to all staff and children."
No insurance for pupils' belongings
The fire alarm installed at Cairneyhill was a type which is activated by breaking a glass call point, although it was the triggering of the security alarm which led to the discovery of last Friday's blaze.
The head teacher and janitor immediately took steps to ensure that those remaining in the building were evacuated and the youngsters gathered in the gala field before being escorted to a nearby church hall.
Fife Council also confirmed that it did not have insurance cover for personal belongings lost in the fire and would be unable to reimburse families, although the school's parent council is trying to help with lost property.
Youngsters and staff returned to classrooms in Tulliallan today, just a day after work to demolish the worst-hit building at Cairneyhill Primary got under way.
---
Read more on this story
Cairneyhill Primary School fire: Staff praised for leading children to safety
School fire fails to dampen Cairneyhill community spirit amid parents' relief
Cairneyhill Primary School fire: Drone footage reveals extent of damage
Police confirm Cairneyhill Primary School fire was "non-suspicious"
Pupils will not immediately return to fire-hit Cairneyhill Primary School, says council
Months of disruption for Cairneyhill pupils and staff after fire forces move to Tulliallan Primary
PICTURED: Demolition work begins at fire-ravaged section of Cairneyhill Primary School