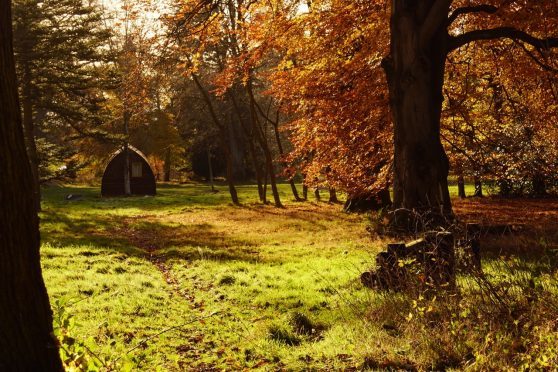 A private estate in the East Neuk of Fife will play host to a new glamping site from the end of this month.
Guests will soon be able to stay in eight new luxury Wigwams on the Montrave Estate near Leven, with visitors able to enjoy ancient woodlands, timber cabins and hot tubs among other amenities.
Co-owner Sir Nicholas Gilmour hopes the new venture will turn the Fife estate – which has been in the Gilmour family since the 1860s – into one of the region's top holiday destinations.
Sir Nick, who has a background in construction, already runs the Montrave House bed and breakfast with his wife Airin, while the couple also run a deer farm and will be hosting the annual Balcormo Races on their nearby farm every April.
He said: "Our beautiful 250-acre estate includes mature woodland walks, a walled garden, our working farm, and we're just three miles from the glorious East Neuk Fife coast.
"Two of our cabins will also have spectacular wood-fired hot tubs, perfect for a relaxing break for guests, and dogs are welcome as well."
The cabins will come under the Wigwam Holidays brand, with the eight en-suite running water deluxe cabins created in Perth.
Sir Nick took over Montrave from his grandfather, the late Sir John Gilmour 3rd Baronet Lundin and Montrave who also served as Member of Parliament for East Fife in the 1970s. He passed away in 2008.
Various changes have been made to the estate and houses over the decades, although the old Montrave House was demolished in the early 70s and would have been one of the largest houses in Fife if it was still standing today.
When asked what future plans the couple have for Wigwam Holidays Montrave Estate, Sir Nick added: "As we both enjoy the great outdoors, Wigwam Holidays are a perfect fit.
"Our future plans include the possibility of additional Wigwam Cabins, installing tree houses, expanding the deer farm around the Wigwam Cabins and opening a small farm shop selling home grown venison.
"Ultimately, we are hoping to also host small events, conferences and intimate weddings, develop mountain bike trails, and make Montrave a magnificent holiday destination."