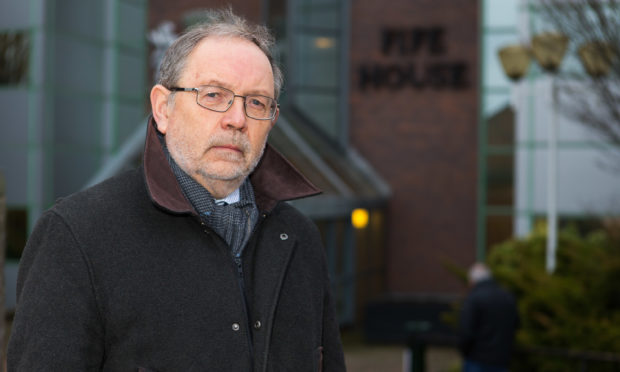 A Fife councillor has been formally reprimanded after using his council email account to ask for help to distribute party political election leaflets.
Councillor Tim Brett, leader of Fife's Liberal Democrat group, used his work computer and email to send a request for volunteers to help him hand out the electioneering leaflets around his local constituency.
On April 26, Mr Brett had been in email contact with the chairman of Drumoig Community Trust (DCT) over the realignment of a footpath, and during the exchange asked if he, and friends or neighbours, would help deliver leaflets.
It was just days before the local elections, which took place on May 4, and campaigning had started for the snap general election on June 8, which saw the SNP's Steven Gethins win the seat for North East Fife, beating Elizabeth Riches for the Lib Dems by just two votes.
The complaint was raised by a local SNP activist.
Mr Brett's actions contravened the Councillors' Code of Conduct, which states members must not use equipment provided by the council for their own party's political gain.
He appeared before a panel in Glenrothes on Monday, where he was censured for his actions.
The sanction means the Standards Commission for Scotland (SCS) determined he had breached the code and his actions had fallen below the standards expected of those in public life but noted it was a result of an inadvertent mistake rather a deliberate attempt to exploit his position.
Mr Brett apologised for the breach and said the episode had "taught him a lesson."
Lindsey Gallanders, who chaired the hearing panel, said: "While in this case the hearing panel acknowledged the councillor's position that his actions were the result of an inadvertent mistake, it's is nevertheless important that we hold him to account by conducting a fair and independent public hearing.
"While the hearing panel are pleased to note Councillor Brett accepts he breached the code and has apologised for doing so, it nevertheless considers that he should have been aware of the prohibition in the code in respect of using council facilities for party political or campaigning activities.
"He should have taken extra care to avoid doing so, particularly given the proximity of the local government and general elections.
"The Code of Conduct is in place to ensure the public can have confidence that the councillors they elect to represent them are holding themselves to a high professional standard."