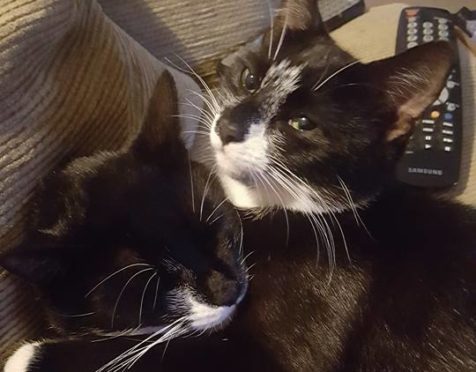 A much loved cat has died after allegedly being shot with a poisonous pellet in Dunfermline.
The shock incident comes only days after The Courier revealed a puppy was kicked to death in the town.
Friendly black and white Dom, who would have been two in July, was found gravely ill in the grounds of Abbeyview Bowling Club after failing to return home with her brother Dick to owner Darren MacGregor.
Sadly Dom, who was having a seizure and was frothing at the mouth when she was found, could not be saved.
Darren's distraught sister Kelly claimed it was when Darren went to a local vets to identify his beloved pet that it emerged she had been shot with a BB pellet or a dart believed to contain a poisonous substance.
"It's much more serious because someone did that deliberately," Kelly said.
"It is absolutely horrible for us to think of her suffering.
"We do not know how anyone could do this, it is just so awful.
"We just do not know what possessed someone to kill a cat, " she said.
https://www.facebook.com/kelly.macgregor.1481/posts/197673660813739?pnref=story
Dom and Dick were well known in the Abbeyview area, visiting local shops.
"They are let out in the morning and usually come back at 1 or 2pm and my brother gets back from work at 3pm," Kelly continued..
"That's when they would have a wee sleep on the couch with him."
When she failed to appear on Monday the family appealed to the local community for help and soon after the Scottish SPCA found her after being contacted by a member of the public.
Kelly described Dom, who was the offspring of her own cat, as "beautiful".
"Darren is devastated by it — I think it would be easier for him to cope if there was a genuine reason why he has lost her."
Dick too is missing his sister.
"He cannot sit still, he is up and down looking for her," Kelly added.
Scottish SPCA Chief Superintendent Mike Flynn said: "Unfortunately, we have seen an increase in cat cruelty with a significant rise in cat poisonings.
"Cats are often victims of cruelty due to their free roaming and friendly nature.
"Owners whose cats appear unwell should seek immediate veterinary treatment as early detection offers the best chance of survival.
"Unfortunately, many cats die a slow, horrible and painful death as a result of poisoning."
Urging cat owners to be vigilant he asked anyone seeing animal cruelty to call the animal helpline on 03000 999999.