Fife has borne the brunt of the Beast from the East, with deep snow lying across the region.
It was at the centre of Wedneday's Met Office red zone and, although that has expired, many believe Thursday's snow has actually been worse.
Unable to reach our office in Kirkcaldy, members of The Courier's Fife reporting team set out on foot in their home towns to see how Fifers were coping with the weather.
---
Aileen Robertson in Aberdour: "Everyone is keeping an eye on their neighbours"
Shops were left with bare shelves as some Fife communities were cut off by blizzards and drifting snow.
Horrendous conditions left roads impassable, with deliveries of morning essentials such as bread and newspapers suspended while the wild weather continued.
And there were signs of panic buying as supplies ran out.
In Aberdour, Robert Barr, who runs the Purple Shop in Main Street, said: "The shop's been as busy at it would be on the hottest day of the year.
"We've plenty of groceries but no rolls, papers, bread or milk. The rolls come from Glenrothes but the driver got stuck at Kinghorn and had to turn back. We get milk on Monday, Wednesday and Friday, but we ran out yesterday."
Mr Barr added: "The main delivery day is Thursday, when we get everything including alcohol and tobacco, but I'll run out of a lot of stuff if I don't get a delivery soon."​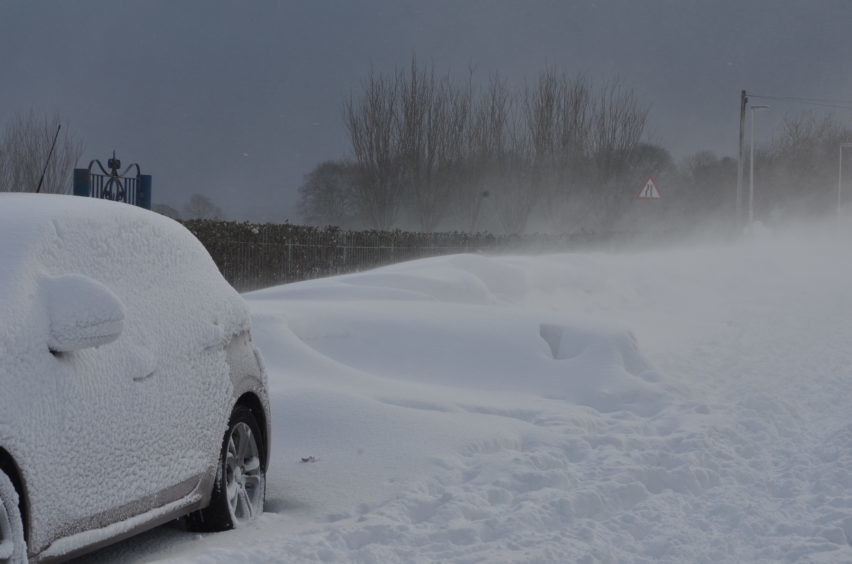 Meanwhile, the Woodside Hotel in Aberdour had an unexpected influx of customers.
While a few who had booked rooms had to cancel, a number of commuters returning from Edinburgh found themselves unable to travel any further and turned up looking for overnight accommodation.
Elisabeth McTaggart, who owns the hotel with her husband John, said: "A lot of people got stuck – people going to Burntisland and Kinghorn. These were people who were trying to go home but couldn't go home.
"We had some business customers who were due to leave yesterday. Some managed to get away today and a few will be staying tonight.
"There was a guy who was trying to get to Perth but realised he was not going to make it so turned off the M90. He might be staying again tonight."
Mr McTaggart added: "We've had quite a few cancellations – some parties who were due to arrive for functions who had to call off.
"But we've had some good fortune in a sense. People had to come off the road for safety reasons."
Also affected by the snow was author, and local resident, Jenny Colgan.
Ms Colgan resorted to melting snow when her water temporarily went off.
She added: "It's weird not hearing a single car pass on the road, but the village has been amazing checking everyone is okay and keeping an eye on their neighbours, as well as warning people not to drive.
"I just so admire the emergency services and medical staff out there, working all through everything. They're total heroes."
---
Leeza Clark in Kelty: "It's community spirit"
In Kelty there was no let up in the blizzard conditions, despite the end of the red warning.
The village always sees the worst of the winter weather, sitting on high ground, but according to Sandra Mutter, 71, who has lived there almost all her life, this is the worst it's been.
It took her 45 minutes to walk from her home, near the M90, to check on a family friend, Helen Moir. The walk normally takes minutes.
"It's really bad out there. Shops are closed, and there is no milk, bread or newspapers to be had.
"I've never seen it as bad as this, and it's going to continue well into the weekend."
Sandra battled the elements to make sure Helen, 94, was all right.
Despite her marathon to get there, she was out, despite the winds which would take your breath away, cleaning all the paths around her house.
"You need to make sure everyone is okay," she said. "It's community spirit."