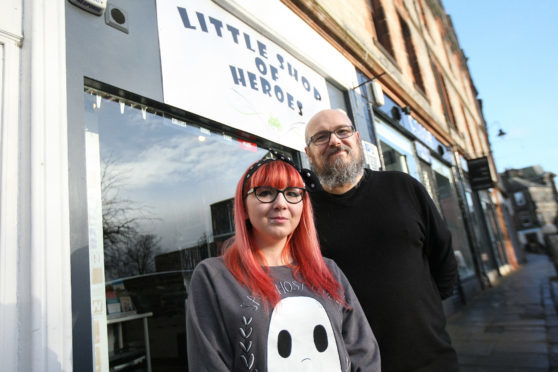 Maybe the cold is all it takes for people to show warmth.
When the Beast from the East forced the cancellation of Dunfermline Comic Con on Saturday, it left organisers Alby, Louise and Sinead Grainger emotionally distraught.
Not only that – the family, who also own independent Dunfermline store Little Shop of Heroes – were facing a monumental financial battle.
But now The Force is with them, and hundreds have rallied round to help to ensure future festivals, which brings thousands of people into the town, are saved.
The event has grown year on year with more than 5,000 people expected to descend on Scotland's new capital of comics on Saturday.
As well as the fun side, the team was giving any profits, and 10% of all adult ticket sales, to its new Books for Schools charity, donating graphic novels to all 19 Fife high schools.
But the weather put paid to all the carefully laid out plans – and that has also left the trio with a financial headache as orders still have to be paid, while still honouring its commitment to charity.
Dunfermline Comic Con organisers "crushed" as event cancelled
But now a gofundme page has been set up, with Visit Dunfermline director Thomas Moffat urging everyone to help save Comic Con and the local business.
In under 24 hours nearly £7,000 of the £20,000 target has been raised.
"We know Dunfermline will rally round this much loved local business and much needed event at this very difficult time – together we can and will make a difference," he said.
And that's what people are doing. Scores are already donating, while many others are declining ticket refunds to help.
John Irvine said: "As a stallholder I have already contacted Little Shop of Heroes and asked them not to refund my table as my donation."
Thomas said: "The reaction has been amazing, we've had Ian Rankin retweeting, and local businesses are totally getting behind it.
Hi @Beathhigh would you be so kind as to RT and help us support this much needed #Dunfermline #Fife event, which hit a major setback today. SAVE #Dunfermline #ComicCom >> https://t.co/e6C4bbv3Hw pic.twitter.com/MVRFYwmuzL

— Visit Dunfermline (@LoveDunfermline) March 1, 2018
"It's wonderful and shows the support of the people in Dunfermline, Fife and beyond.
"We do not want to lose the event or see the family take a personal financial loss – they've created something really important for Dunfermline, and after the fireworks and Christmas lights this is the biggest event.
"It gets Dunfermline noticed and we cannot afford to lose it."
Louise said the family were overwhelmed by the support.
"We had a very emotional Thursday, and busy as we had so many people to contact to warn it was off.
"And then we had this outpouring of support. I do not know how many times I cried yesterday!"
She said the shop was like family, with many regulars becoming volunteers for the Comic Con – which in turn became a bigger family –with the end result being a fun and creative event which would supply books to schools.
"The support has been emotional and heartwarming."
Local SNP MSP Shirley Anne Somerville said: "I'm delighted to see the community getting behind the organisers, Little Shop of Heroes, to help cover the cost of this year's Dunfermline Comic Con.
"The event is much loved by fans, and represents an incredible contribution to the community through the Books for Schools charity which it supports.
" I've been pleased to contribute to the fundraiser which has been set up to help cover the cost of the event, and I would encourage everyone to consider making a donation to support this local institution."
To donate visit www.gofundme.com/savedunfermlinecomiccon