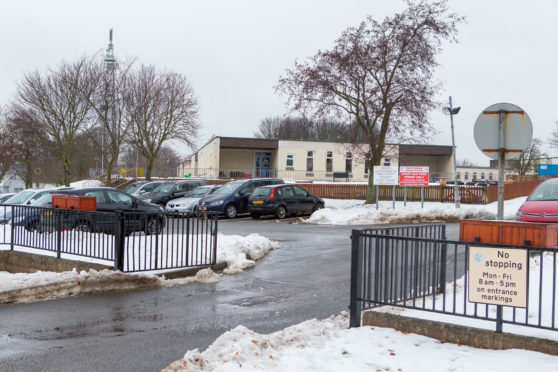 All Fife schools should reopen as normal on Tuesday, Fife Council has confirmed.
Education chiefs took the bold decision on Sunday night to have yet another blanket closure of secondary, primary, nursery and special schools on Monday, despite a huge effort from staff and communities to clear snow from paths, playgrounds, entrances and car parks.
That prompted anger from many parents who felt local decisions could have been left in the hands of headteachers and buildings re-opened on a school-by-school basis.
However, with the thaw continuing, pupils across the region will finally be back in the classroom on Tuesday morning – with senior secondary school pupils in particular facing some important exams coming up.
Carrie Lindsay, executive director of education, said: "The particularly bad conditions mean that some of our bus routes still aren't fully accessible.
"We're working with operators to clear routes and establish safe pick up points.
"There may still be issues with some buses tomorrow; more information about school transport will be available later.
"We're still working to clear footpaths around many schools, although the milder temperature overnight is helping. Parents are asked to take extra care and ensure children wear appropriate clothing and footwear.
"Thank you again for all your patience, support and help during a very difficult week."
Fife Council said Sunday's decision to close all schools for a fourth day was taken in the interests of pupil safety, with many pedestrian routes and school bus routes still inaccessible and severely affected by snow and ice.
"Closing all our schools today (Monday) was one of the hardest decisions I've had to take in this role," she admitted.
"I am acutely aware of the need to get our children back in the classroom to continue their learning as well as to allow our parents back to work.
"Lots of factors had to be considered and in the end it came down to one thing – we couldn't be confident that children and families could get to school safely.
"Our roads teams have been working round the clock since this weather began.
"But the drifts and blockages around Fife have been so bad that, over the weekend, they couldn't turn their resources to footpaths.
"Squads of parks staff have been working hard on Fife's footways but they couldn't possibly clear them all.
"Lots of Fife is now moving well, but many school bus routes were still inaccessible last night and many pavements still severely affected by snow and ice.
"We couldn't risk hundreds of school children – including parents with pushchairs and toddlers – walking in the roads to get to school, at the busiest time for people driving to work.
"Driving conditions are difficult and we didn't want to create a hazardous situation for everyone.
"We all went to great lengths to try and at least open secondary schools but the sheer size and diversity of Fife made it impossible.
"Roads to our 18 high schools were treated regularly over the weekend and school car parks and access routes were cleared.
"But speaking to transport providers yesterday, we found that travel arrangements for different parts of the community at each individual school would have been so varied, it would have been confusing for families and unfair to expect children to attend.
"I can't thank communities and staff teams enough for the exceptional efforts they made over the weekend to dig out primary school playgrounds.
"I joined groups at three schools myself and there was a great team spirit.
"I completely understand people's disappointment that we then had to call a closure, but please be assured that your efforts won't go to waste.
"With our roads teams still battling huge drifts and trying to open up more rural communities, this work has allowed us to get our schools opened sooner."
Many parents left with another childcare headache, however, have taken the council to task, suggesting little or no consideration had been given to working mums and dads.
There has also been criticism levelled at a number of councillors who posted inaccurate information on social media before the official closures announcement was made.
Kirstie Ross, from Aberdour, pointed out that a huge contingent of local parents turned out to shovel snow for more than three hours on Sunday, only to find out their efforts had been in vain.
"After three days of having to rely on friends, my 69-year-old mother has had to come down from Dundee to look after my two sons so that my husband can go to Newcastle and I can go to Glasgow – neither of us have the luxury of phoning up to say 'we're sorry we can't come to work today because the council have taken the ludicrous decision to close all our schools again," she said.
"It is a despicable – and I suspect simply lazy – decision to close the schools.
"Denying all children in the region a fourth day of school because a few children would have difficulty making it in is outrageous.
"It goes without saying that I am absolutely disgusted by Fife Council's complete lack of action and consideration.
"What exactly are we teaching our children here – any inconvenience in getting to school and we simply say 'oh too hard – let's just shut the schools?'.
"That is certainly not the attitude I want my children to grow up with and it won't do Scotland as a whole any favours.
"Children coming out of school with that attitude will have a sharp wake-up call when they enter the workforce."