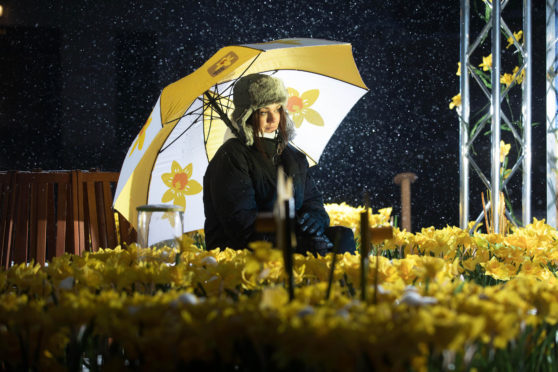 A crunch meeting is to be held next week which may secure the future of Marie Curie palliative care services across Fife, The Courier understands.
Marie Curie announced earlier this week it will end its palliative care services in the Kingdom at the end of May amid suggestions a new contract would impact on the quality of care provided.
The organisation said rates quoted by the Fife Health and Social Care Partnership were "unrealistic and restrictive", with Richard Meade, head of policy and public affairs in Scotland, going as far as saying people were more likely to die in hospital than in the community or in their own home, putting greater pressure on acute services.
The news has sparked concern from sources, including Mid Scotland and Fife MSP Alex Rowley, who demanded that health and social care managers "think again", while Fife's former health and social care chair Andrew Rodger also threatened to stage a silent protest outside Holyrood over the move.
It is understood Scottish Government officials will now meet with representatives from the Fife Health and Social Care Partnership on Monday to try and find an adequate solution for all parties.
Kirkcaldy and Cowdenbeath MP Lesley Laird urged Marie Curie and the Health and Social Care Partnership to get around the table as soon as possible and "explore every means" of keeping the charity's services in the region.
"Marie Curie's palliative services are clearly valued, not just by patients and families who depend on the charity's expertise, but also the wider healthcare community who recognise the vital contribution Marie Curie nurses provide in caring for people in a life-ending situation," she said.
"If Marie Curie does leave – and I sincerely hope it won't come to that – the important question remains whether Fife will be able to continue to provide high-quality palliative care to patients who wish to die with dignity at home."
North East Fife MSP Willie Rennie is also to meet with Marie Curie next week to discuss the issue.
He said: "I've been contacted by GPs and health practitioners with real concerns that people with palliative care needs will find their needs being left unmet unless something is done to resolve this problem.
"These services are essential to supplement district nurse support and if we do not find a way forward, pressures will only increase elsewhere.
"Marie Cure have said that they believe the present tender is unrealistic and restrictive and I hope that when I meet with them they will be able to give me more detail about what measures need to be taken to bridge the gap.
"The Scottish Government need to ensure that health boards have the support and resources they need to deliver for palliative care service users.
"Ensuring quality care and support must be the number one priority."
Claire Dobson, Fife's Health and Social Care Partnership's divisional manager, had already said the organisation was seeking urgent discussions to find a positive outcome.
"Regardless of who is delivering services, the provision of high quality care which ensures each individual's personal dignity throughout their journey is our first priority," she noted.
"This is never more so when it comes to the sensitivity of palliative care and the choices of service users and their carers.
"As with all our service providers, we value greatly the working relationship with Marie Curie and so it is disappointing that we've not had the opportunity to discuss their concerns."