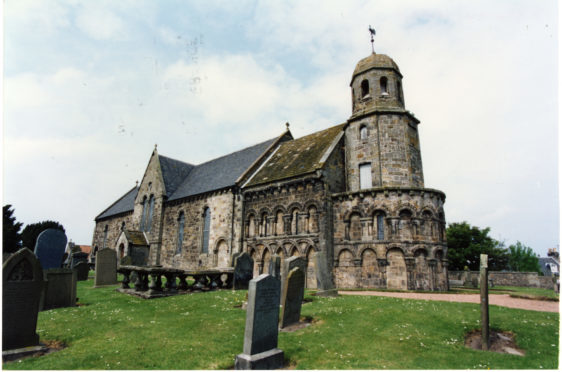 Human bones have been found scattered around a Fife churchyard after refurbishment work disturbed ancient graves.
A visitor found part of a jaw bone and other remains outside St Athernase Church in Leuchars on Wednesday.
After  photographs of the grisly discovery were posted on Facebook, local residents contacted Fife Council's bereavement services and branded the incident "disrespectful".
However, Rev John Duncan said that disturbance of the graves had been expected and bones had been collected inside a coffin, with plans to give them a "dignified" re-burial after the refurbishment is completed.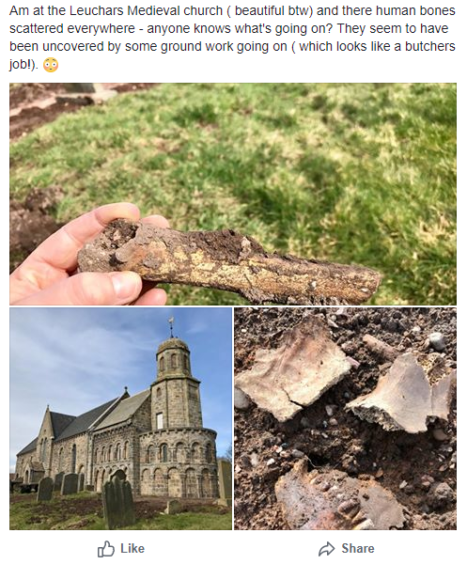 He explained: "A new drainage system needed to be installed as it was the only way to preserve our beautiful, 12th century church, which was suffering from dry rot and all kinds of other problems.
"To do that meant that we had to dig up the graveyard.
"We got permission to do this from the council and a sheriff court, as the church does not belong to us – it belongs to the council.
"We did know that there was a possibility of bones coming up as the soil would be disturbed.
"We managed to retain some of them and have out them inside a coffin, which we are hoping to re-buy in a dignified, Christian ceremony, similar to what the people would have had at heir original burial.
"This is a 'dead' graveyard – pardon the pun – meaning that there are no living relatives of the people buried, as they had died around the 18th and 19th centuries."
Described by the General Trustees of the Church of Scotland as being "the single most important place of worship in Scotland", St Athernase Church is undergoing refurbishment and preservation work costing more than £600,000.
Work started in July  to repair the roof, re-point masonry and  replace damaged stonework, among other jobs.