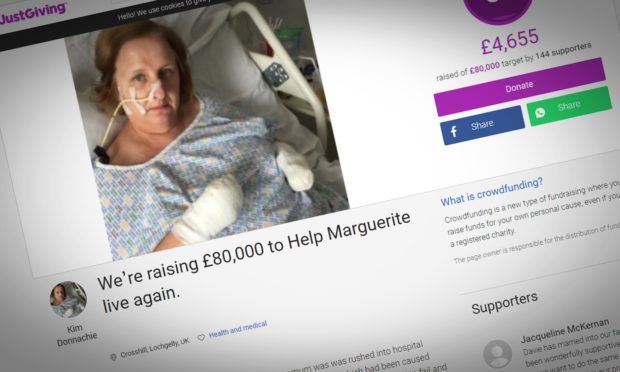 A Fife grandmother is waiting to have all four limbs amputated after falling victim to sepsis from a "paper cut".
The family of Marguerite Henderson were told to prepare for her death while the 54-year-old lay in an induced coma for seven days.
Marguerite, from Crosshill near Lochgelly, pulled through but doctors have no choice but to amputate all four limbs as a result of the severe infection.
Now Marguerite's family have launched a fundraising campaign to raise £80,000 to give the former Fife Council support worker a bionic hand, prosthetic legs and an electric wheelchair.
Marguerite's eldest daughter Kim Donnachie, said her mum first noticed she had a tiny cut on her index finger on her right hand in February.
"It was that miniscule, she doesn't even remember how she got it. It was just a cut the size of a papercut," she said.
"By the next day it looked infected so she went to the pharmacist to see if they had anything for it and they told her to get it checked by the doctor so she got an appointment for the next day."
But the next day Marguerite felt too poorly to make the appointment and the day after that the "Beast from the East" struck the UK.
Kim said: "By lunchtime she was so unwell, she couldn't walk, her lips were blue and she was turning grey so we rushed her into hospital.
Marguerite and her two children Kim, 27 and Emma, 18, were told by doctors at Victoria Hospital in Kirkcaldy that she had contracted sepsis.
The next day the former nursery worker was rushed into intensive care when her organs began to fail, resulting in her being put on dialysis.
Marguerite was kept in a coma for seven days and the family were told she might die. Despite her rallying and coming out of her coma, the bad news was not over.
Kim said: "On Monday the 19th we were sat down and told it's definite she would be having to get all her limbs amputated. The amputation of her arms is scheduled for Tuesday and her legs will be a couple of weeks later.
"They're all black and bandaged up at the moment so they can dry out before surgery."
Kim set up the crowdfunding page in the hope of raising £80,000 to help give her mum the most comfortable life possible.
To donate and help Marguerite, visit www.justgiving.com/crowdfunding/kim-donnachie.