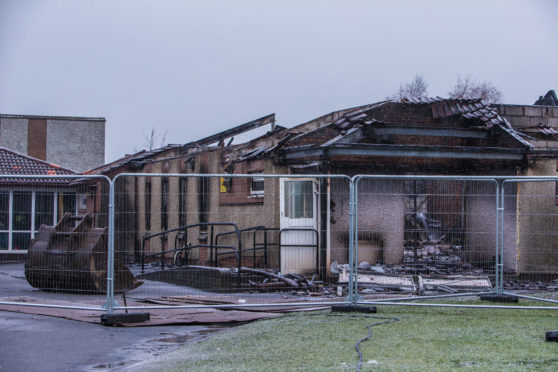 Pupils, parents and staff of a Fife primary school which went up in flames four months ago will return to the site on April 16, it has been confirmed.
More than 200 youngsters and staff were forced to flee Cairneyhill Primary School on the afternoon of December 8 when a fierce blaze ripped through a substantial part of the building.
The whole school had to be relocated to Tulliallan while demolition work on the fire-hit structures and construction of temporary modular accommodation was carried out.
Fife Council has confirmed children and staff will be back at Cairneyhill immediately after the Easter holidays, as planned.
Head of education Shelagh McLean commented: "All the teachers and staff at Cairneyhill PS are looking forward to welcoming children back to school on April 16.
"A lot of hard work has been done since the fire and children can look forward to freshly painted and refurbished surroundings and a school that's looking great.
"A big thank you is due to the community in Kincardine and Tulliallan PS who have looked after staff and children so well over the past few months."
Four new huts have been placed on the gala field adjacent to the school playground for P1, P2, P3/2, P4/3 and nursery children, while P5/4 to P7 and ASC pupils will be able to return to the main part of the building.
Demolition work on the fire-damaged part of the school to the rear was completed in January and the junior section, which was where the fire started, is expected to be rebuilt at a later date.
The fire prompted questions about safety in Fife's schools after it emerged the triggering of a security alarm, and not the dedicated fire alarm which is activated by breaking a glass call point, alerted staff to the blaze. It emerged one in four Fife schools do not have smoke detectors fitted.
The EIS teaching union subsequently called for a review of fire safety to be carried out, although Fife Council stressed that all new builds have automatic detection systems with a link to emergency services in place, and the local authority takes every opportunity to replace systems in older buildings as part of major alterations or renovation works.