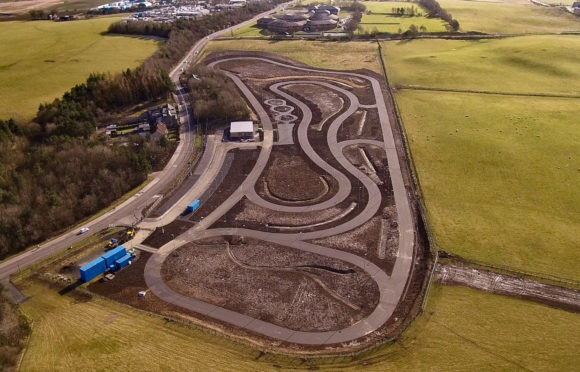 Scotland's first purpose-built cycle circuit in on the track for an official opening next month, The Courier can reveal.
As well as providing a top class facility to develop riders, the 1.6km outdoor circuit at the Fife Cycle Park – which is being built on land between Lochgelly High School and Lochore Meadows Country Park – promises cycling in a traffic-free environment to people of all ages and abilities.
Around £2.4 million has been ploughed into the new track, with grant funding of £300,000 from sportscotland and £300,000 from the Scottish Government Regeneration Capital Grant Fund.
A spokesperson for Fife Council confirmed the project is "progressing well and on budget" and, while no date has yet been fixed for its formal opening, sources suggest a day in May is being looked at.
Councillor Linda Erskine, convener of the Cowdenbeath area committee, said: "This circuit will put Lochgelly at the forefront of cycling in Scotland and give us the chance to develop a culture of cycling as a normal activity for residents in the area and across Fife.
"Coupled with the work to develop a climbing facility in Lochgelly and the investment in the mountain bike trails at Lochore Meadows, our local area will be in a strong position to promote itself as a destination venue for cycling and other leisure pursuits.
"Lochore Meadows Country Park, which is also home to Fife's Outdoor Education Centre, is already Fife's most visited outdoor attraction and I look forward to us building on that further and attracting more visitors from across Scotland."
The total distance of the road will be around 1.6km; offering various circuit layout options.
Open all year round, it is also hoped the circuit will be able to attract regional, Scottish and British Championship events.
Stewart Harris, chief executive of sportscotland, said: "Located next to the High School and adjacent to Lochore Meadows, the setting is ideal as it links to the existing cycling network and other community facilities.
"That's why we were delighted to invest £300,000 in this project, which we believe will have a significant role to play in providing more and better sporting and physical activity opportunities, both locally and nationally."
Craig Burn, Scottish Cycling chief executive, said his organisation is "hugely excited" to see the project come to fruition.
"Having a closed road loop on their doorstep is going to make a huge difference to the communities and clubs in and around Lochgelly and Fife," he noted.
"It will be perfect for hosting training sessions and events which are suitable for all ages, as well as being an ideal location for coach development.
"With Lochore Meadows County Park not far for the circuit, Fife Council is continuing to grow its cycling hub for both on and off road riders, attracting cyclists from across Scotland."