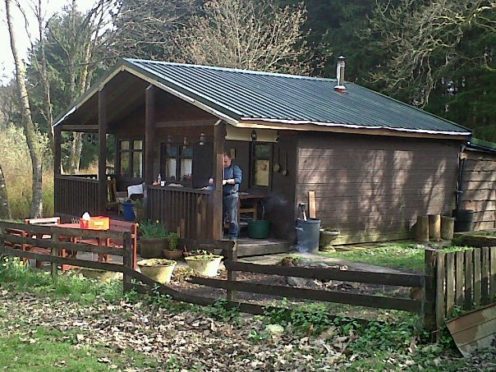 A Fife woodland is hosting a pilot scheme to bring back the old tradition of hutting.
Around 600 people have expressed an interest after the charity Reforesting Scotland put 12 plots at Carnock Wood up for grabs.
They will soon be given the chance to enter a ballot to secure a coveted forest hideaway.
Reforesting Scotland director Donald McPhillimy said it showed there was support for the drive to bring back hutting – a popular activity in Scandinavian countries.
"It's going to a ballot because there's been such a lot of interest in just 12 sites," he said.
"There will be lots of other sites coming along as well, so this is not the only opportunity.
"Hutting is for everybody. It's an affordable way of getting away for the weekend and getting a bit of peace and quiet."
People who have registered an interest have been invited to attend an information event in Dunfermline next month.
Successful applicants will be offered the chance to rent a plot in Carnock Wood.
The cost of the lease has yet to be agreed, but hutters can expect to spend anything from £5,000 to £15,000 on a cabin, which they will have to build themselves in compliance with a design brief.
Hutting was most popular in the UK between the two world wars but declined rapidly after the introduction of the Town and Country Planning Act 1947.
Mr McPhillimy said there were only about 400 woodland huts in Scotland at present, while in Norway there are 400,000.
Supporters say hutting boosts creativity, with Norwegian composer Edvard Greig retreating to his forest bolthole to compose and Dylan Thomas using a hut as a base to write poetry.
In recent times, Scottish folk musician Phil Cunningham recorded a session with Aly Bain and others called The Hut Set in a hut on Staffin Island.
"It's about getting away as a couple, family or individual to write some poetry, compose music or just read a book," said Mr McPhillimy.
"A lot of people did their best work in huts.
"It's a way to get away from 21st Century life, and your phone."
The Carnock scheme is part of A Thousand Huts, a campaign launched by Reforesting Scotland in 2011.