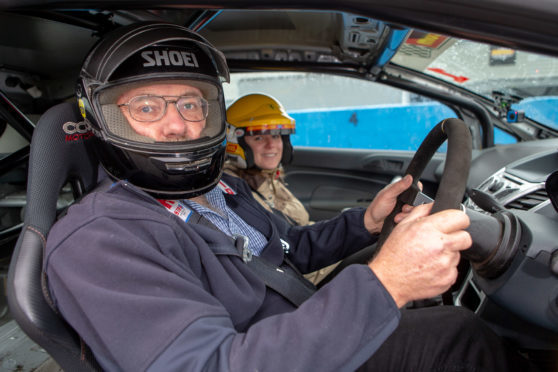 Being registered blind has not put the brakes on John Playfair.
The petrolhead has recently lost his sight to such an extent that he can no longer legally drive.
It affects him every day, not least as he walks past his Lamborghini-motored high performance Audi.
But thanks to the brave souls at Knockhill, he has once again clambered behind the  wheel for a lap in its rally circuit car.
The little sight John does have was masked by a blindfold as he took to the track.
John was helped by his daughter Sarah, who took to the passenger seat to guide him around Knockhill's notorious twists to raise funds for charity and trying to smash the lap record.
While he did set a new record, The Courier is not revealing anything more.
Instead John is asking people to guess the time as they donate to his Just Giving page for charity. It is not the first time John has done a spot of blind driving.
The last attempt was in a go-kart at the Raceland Karting track while other daughter Linda drove a go-kart behind him to keep him straight
"The corners were fine, it was the straights – you didn't know if you were going straight.
"Linda had to come and push me back on again," he said.
John raced as a special stage rally driver in Scotland until he retired to support his daughters' motorsport careers.
Both Linda and Sarah raced in the UK and Europe, Linda in karts and Sarah in single seaters.
John has a rare genetic eye disorder, Late Onset Retinal Degeneration (LORD) for which there is currently no cure.
"Good health and general wellbeing seems to slow its onset.
"It'll never stop it, it can't stop it, but it'll slow it.
"It's not life threatening but it's hugely life changing," he said.
Donations will raise funds for Edinburgh University to carry out medical research into the condition, which has a 50/50 chance of being inherited but affects John and all his siblings.
Donations can be made at www.justgiving.com/BlindLap.
There are prizes on offer with winners and the lap time announced in June at the Royal Highland Show.