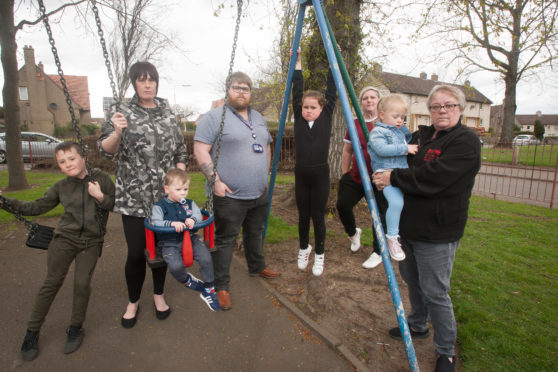 Eighteen 150ft trees which have engulfed a Fife housing estate are finally to be removed after a three-year row over who is responsible for them.
Fife Council has agreed to spend £10,000 on getting rid of the poplars in Methil, despite insisting the action should be taken by landlord Fife Housing Association (FHA).
Local councillors have accused the association of treating tenants shamefully by abdicating all responsibility for the trees in Lilac Bank, where the shallow roots have damaged parks, pavements and gardens.
While FHA continues to state the council is accountable under an agreement signed by the two parties more than 25 years ago, the local authority said there may need to be "significant ongoing legal discussion" as officers attempt to recoup the money for the work.
Meanwhile, residents say they are just relieved the trees are being removed at last, no matter who does it.
Tenant Tracy Cunniffe said: "Something has to be done because everybody is affected by it.
"The roots are uplifting all the pavements and when it's dark people are tripping and falling. The park is really bad and one person had roots coming up through their garden.
"We've been complaining about it for years but we keep getting told 'it's not our responsibility'."
Methil Labour councillor Ryan Smart welcomed the fact action was finally being taken but added: "Fife Housing Association have let their tenants down on this and they should be ashamed of the way they are treating people.
"We are having to be the bigger partner and sort this out but we should not be having to pick up the bill for their shortcomings."
The council's Levenmouth area manager Dave Paterson said the council was clear it should take on general maintenance responsibilities in the Lilac Bank area but the legal agreement did not include carrying out large-scale work such as tree removal.
A spokesperson for FHA said: "The minute of agreement we signed with Fife Council in 1991 clearly sets out their responsibility for maintaining trees in adopted areas such as Lilac Bank, and we have been liaising with them for some time now in an effort to have this issue addressed.
"As such, we are delighted that they are now in a position to tackle the problem and resolve this matter for local residents."