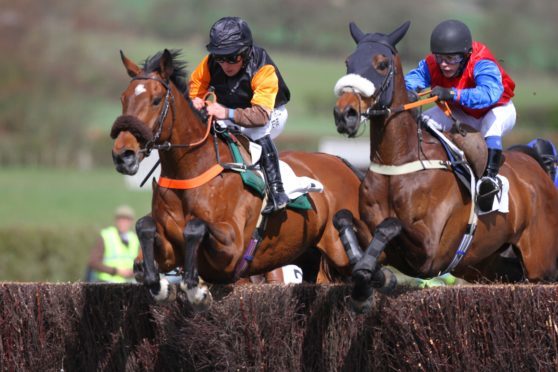 Punters witnessed the most competitive races in several years at Fife-Point-Point on Saturday.
Balcormo Races, as the event is better known, attracts a bumper crowds of spectators to bet on the runners and enjoy the social gathering.
Female jockey Amy Waugh saw off competition from five male riders to win the first ever mixed open hosted at the UK's most northerly point-to-point meet.
She rode to victory on Nicki's Nipper, followed closely by local rider Kit Alexander of Kinneston, near Leslie, on Thomond.
Young riders were delighted to the get course tips before the pony races from Grand National winning jockey, Derek Fox, who rode to victory on One For Arthur last year.
Honorary secretary Fiona Drysdale said it was a pleasure to present the prize to Waugh, of Morpeth, who was also named leading reader at the meeting.
She said: "It was a tremendous race, there were only six runners but it was very competitive."
A wet morning gave way to sunshine for the afternoon steeplechase races on Montrave Estate, near Lundin Links.
Fiona said: "It was the most competitive racing we have had in the last five years, with some exciting finishes and good racing.
"There were plenty of thrills and spills, but luckily no serious injury to horse or rider."
Nineteen-year-old Cameron Wadge, based at Lucinda Russell's Milnathort yard, crossed the line first on Chanceiton in the club members race.
Twins Archie and Murray Parsons, 12, took first and second place in the novice riders pony race.
Results:
The Turcan Connell Fife Foxhounds Hunt and Northern Point-to-Point Association Club Members Race – 1 Chanceiton, (Lucinda Russell, owner Peter W Russell), Cameron Wadge Hunt, Fife; 2 Frankie's Promise (Nick Alexander) C Robertson, Fife; 3 Whiteabbey, (Rebecca Hewitt) A Waugh, Berwickshire; 4 Another Dark Rum (Rachel Wadge) P Wadge, Cumberland; 5 Crazy Diamond (Victoria McKie) N Orpwood, Northumberland; PU Royal Chatelier (Nick Alexander) J Alexander, Fife; PU Milans Well, William Young, Lanark & Renfrew. 7 ran, time:  6m58s
The Strutt & Parker Restricted Race – 1 Exit Ten (C Tailford) C Tailford, Haydon; 2 Afterclass (Ella McEwan and Ronald McEwan)R Wilson, Lanarks & Renfrew; 3 Left Back (Nick Alexander) C Robertson, Fife; 4 Sound Barrier (Doreen Calder) C Wood, Berwickshire; 5 Poetic Presence (Lesley Colterd) Mr J B Ferguson, Duke of Buccleuch; 5 ran, no time recorded.
The Bruce Farms Intermediate Race – void
The Pentland Landrover Northern Area Feature Mixed Open Race – 1 Nicki's Nipper, Miss A Waugh; 2 Thomond (Nick Alexander) Kit Alexander, Fife; 3 Viacomettie (Karen Lynn, Kenneth Lynn) Mr J Dawson, Jedforest; 4 Allthekingshorses (Nick Alexander) Jamie Alexander, Fife; F Safari Journey (Henrietta Dales, The Reassuringly Racy Club) Arran Anderson; F Thomond, (Nick Alexander) Kit Alexander, Fife. 6 ran, 6m 57.
The Rathbones PPORA Club Members Conditions Race 2.4m – 1 Tambour Major (John Threadgall) Connor Wood, Lauderdale; 2 Nine Altars (Jane Dun) C Dunn, Lauderdale; 3 Rossini's Dancer (Nick Alexander) Kim Walker, Fife; 4 The Ice Factor, (Alison Hamilton, J P G Hamilton) Cameron Wadge, Jedforest; P Up to Al (William Scott, M Robertson) A J Hamilton, Lauderdale; P Rafteiri (William Young) A Chadwick, Lanarks & Renfrew; P Roskeen Boy (Andrew Gale) E H Gale; P Allerton (Leanne Williamson) L Williamson, Duke of Buccleuch; P Mr Robinson (Rebecca Robinson) A Anderson, Derwent. 9 runners, no time.
The Rae Grieve Memorial Open Maiden Race – 1 Treliver Manor (Tony Dobbin, L Ruddy) W Percy; 2 Royal Flush (Mr S Waugh) Amy Waugh, Morpeth; 3 Flower Ball, (Nicholas Orpwood, The Rollerball Partnership) N Orpwood; 4 Burnetts Joint (William Young) Connor Wood, Lanarks & Renfrew; 5 Caherelly (Rebecca Hewit, Mrs Ray Calder) Amy Waugh. 8 runners, 7m 04s.
Pony Races:
Musselburgh Racecourse Treehouse Sporting Colours novice riders conditions pony race 148cm and under – 1 Milli Butterfly, Archie Parsons (12); 2 Altered Images, Murray Parsons (12); 3 Larkfield Lad, Jake Dickson (11) ; 4 Merieston Brindissi, Teigan Cameron (12); 5 Boom Boom, Benjamin Rogers (11); 6 Jazz, Kieran Larder (14). 1m43s.
Ship inn Fife Foxhounds open, 138cm and under – 1 Ravara Super Ted, Patrick Barratt Atkin (10); 2 Merryment Top Cat, Thomas Bradburne (11); 3 Patrick's Wish, Patrick Barrat Atkin (10); UR Ninfield Millionaire's Splendour, Elliot Stockwell (13). 1m35s.
Perth Racecourse Fife Foxhounds open, 148cm and under – 1  Springs, Sarah Longhorn (14); 2 Doppio Movimento, Nick Barratt Atkins (15);  3 Rubyroo, Tara Stockwell (14); 4 Blingfaethebing; 5 Green as Grass, Grace Gale (14); 6 Zada, Sarah McGhee (15). 1m 35s