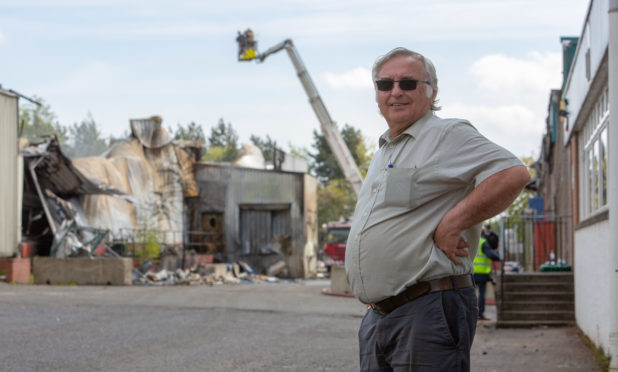 A Fife businessman watched in horror as fire-raisers started a ferocious blaze which destroyed two huge industrial buildings.
Alan Peebles told how flames shot through the roofs of the disused units in Glenrothes, saying black smoke belched into the night sky within minutes of the "hugely reckless act".
Mr Peebles, 71, had planned to sleep at his work at Southfield Industrial Estate in a bid to protect it following a previous fire and a break-in at other businesses nearby earlier this week.
But he was stunned to see a group of men deliberately stack a pile of tyres against the units on opposite sides of the road and set them alight at around 11pm on Monday.
"The fire was going right up the outside of the building and there were gas canisters going off," he said.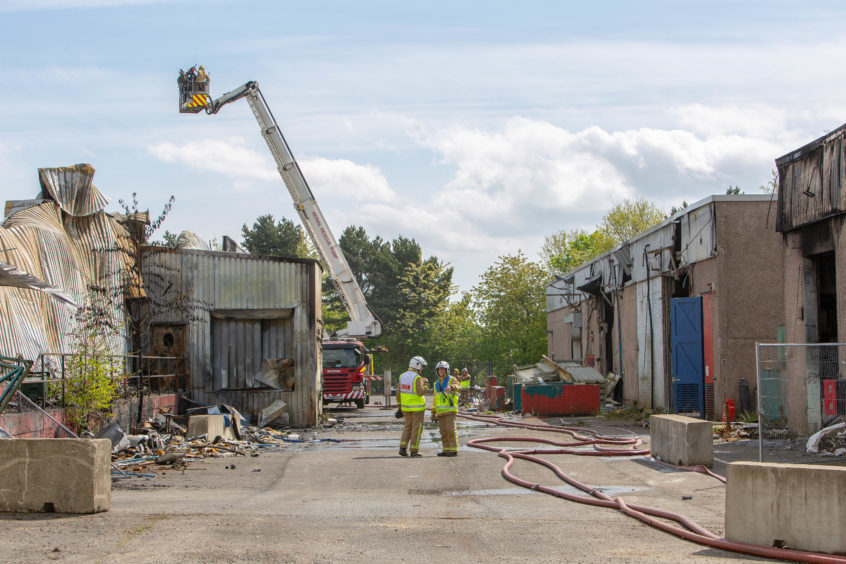 Mr Peebles, who runs packaging machinery firm Agritronix with son Keith, claimed those responsible had been staying in caravans at the bottom of Faraday Road, next to the affected buildings, and beat a hasty retreat when the flames took hold.
"I phoned the fire brigade and by the time they arrived the fire was well developed," he said.
"Both fires were going at the same time and those responsible were stuck in the middle and realised they were going to have problems.
"They had a mad dash to move their caravans out and a fire engine had to be moved to let them out."
He added: "It was a big, big fire. I was here until 4am because I was so worried it was going to spread right along the row of businesses."
The businessman described the blaze as no surprise, adding: "One of the buildings in particular has been empty for a while and kids had been playing in it so I was expecting something like this."
Police confirmed they were treating the fires, which raged throughout the night and required a significant emergency response, as cases of wilful fire raising.
They said the two disused premises had been extensively damaged and a joint investigation with the Scottish Fire and Rescue Service to establish the full circumstances was under way.
Sergeant Kirk Donnelly of Glenrothes police station said: "This was a hugely reckless act which has resulted in damage to property, with other neighbouring businesses also at risk of being damaged.
"I'd urge anyone who may have seen suspicious behaviour in the area in recent days, or who has any information about this fire, to contact us as soon as possible.
"I want to reassure the community that all efforts will be made to trace the people responsible."
Monday night's blaze is the latest in a number of suspicious fires in Glenrothes in recent weeks but police do not believe they are linked.
In the early hours of Monday flames engulfed a car and fence after a wheelie bin was set alight and two weeks ago a caravan was torched and the intense heat blew out a bedroom window of a neighbouring house.
Anyone with information can contact Police Scotland on 101.