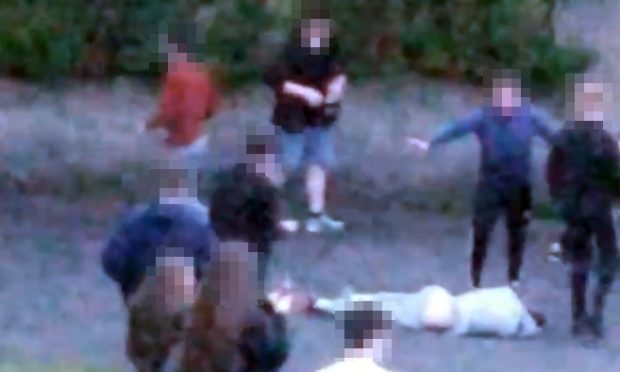 More than 40 youngsters rampaged down a Fife street, fighting, breaking into property and vandalising buildings.
Shocking video footage which emerged online shows youths stamping on a victim's head as a gang assaulted people in Burntisland.
A pair of videos shot by a witness before police arrived show three people being attacked by several boys and girls.
One of the victims is stamped on as he lies on the ground, after being lunged at and knocked from his feet from behind.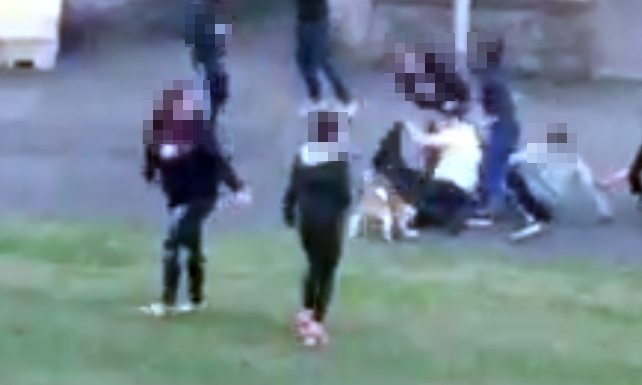 Another is kicked and punched as a dog pulls at his trouser leg with its teeth.
One girl can be seen dancing as the attacks continue near Lammerlaws Road while others appear to be encouraging the attackers.
After one boy is repeatedly kicked and stamped on, while prone of the ground, another male steps in to stop the attack, as scuffles continue elsewhere.
The videos, which were shared thousands of times in four hours, have prompted horror and disgust among those who have watched them.
Second youth arrested following night of mayhem in Burntisland
It is unclear from the footage whether the victims were with the group or were merely in the area and caught up in the violence.
It was also alleged that youngsters had broken into sheds and vandalised the property of an elderly resident.
An investigation has been launched into the incident and police said that a 15-year-old boy had been charged.
A spokesman for Police Scotland said: "At about 8.30pm on Saturday, May 19, officers from Fife attended a disturbance call in the Lammerlaws Road area of Burntisland.
"Inquiries into the incident remain ongoing at present. A 15-year-old boy has been charged with vandalism."
A second youth has now been charged with assault.
The man who uploaded the videos, who The Courier has not named, said in his post he was "shocked beyond belief".
He said: "These kids were aged from 12 years old upwards.
"Turns out a lot of the kids aren't necessarily from Burntisland but have travelled from all over Fife."
Ongoing antisocial behaviour in Burntisland prompted a pledge a fortnight ago to provide extra police patrols.
Kirkcaldy Police said that residents had endured another night of disturbance on Sunday, May 6.
They warned that anyone found to have committed a crime would be dealt with robustly regardless of their age.
Parents were warned to ensure they knew the whereabouts of their children.
Following another night of anti social behaviour in Burntisland on Saturday night there will be extra patrols in the area and any person found to be involved in criminality will be dealt with robustly regardless of age.

Do you know where your children are?

— Kirkcaldy Police (@KirkcaldyPolice) May 7, 2018