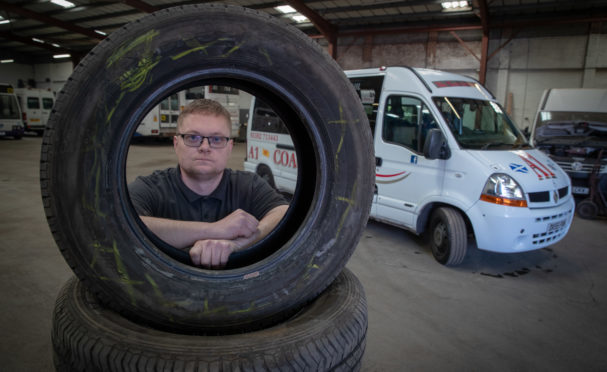 Disabled children were at risk of not getting to school after thugs damaged their bus.
Cruel vandals appear to have used a knife to slash seven tyres on three buses owned by a family-run Fife firm.
Shocked workers at A1 Minibus and Coach Services in Methil were dismayed to discover the destruction on the minibuses, which had been specially adapted to carry youngsters in wheelchairs.
They are also used to transport elderly people, who would otherwise be housebound, to lunch clubs.
Undeterred, staff quickly changed the tyres to ensure a normal service on Monday — but the company is £500 out of pocket as a result.
The vandalism, discovered in the early hours of Sunday morning, has been condemned locally as mindless and disgusting.
Katrina Goodsir of A1 said: "These buses are used to transport 15 special needs pupils to school.
"We were still able to do the run because we have two spare buses and changed the tyres, otherwise these children wouldn't have been able to get to school at all.
"These kids depend on us."
Katrina discovered the damage on two of the buses parked behind the firm's Wellesley Road depot when she returned home at 4am.
Both rear tyres on each vehicle had been slashed.
The third bus had been parked outside transport manager David Goodsir's home on Kirkland Drive and he found three tyres slashed when he went out later on Sunday.
"It's no coincidence," said Katrina. "Someone has done this deliberately.
"None of the other vehicles in either street were touched."
A1 has been operating in Methil for more than 30 years and Katrina said most people were aware of their work with elderly and disabled people.
"People need to know what their kids are up to at the weekend," she said.
"Folk seem to think doing this kind of thing is a laugh but it's not funny.
"This could really have had a big impact.
"Three runs were affected and it's not everybody that has a spare wheelchair bus.
"We're just lucky we were able to sort this in time for Monday."
Police are investigating the incidents and a Facebook post by A1 appealing for information has been shared hundreds of times.