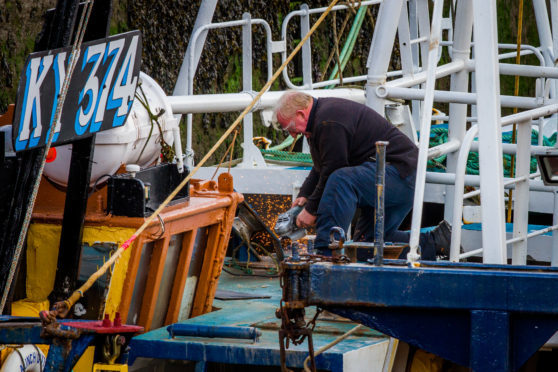 Coastal communities in Angus and Fife are to share in £6.9 million in funding to support jobs and help fishing fleets land and sell their catch.
The sixth round of the European and Maritime Fisheries Fund (EMFF), which was announced at the annual Skippers Expo in Aberdeen, will award grants to 107 projects across Scotland.
Around 83 individual vessels will receive funding to upgrade their monitoring or storage systems, or toward new fishing gear, while Seafood Scotland will be awarded £526,602 to help the sector break into new export markets.
And three schemes in Courier country have also been given a boost.
Arbroath-based G&A Spink Fish Merchants has been awarded £49,411 toward its aim of supporting job creation in the fisheries area along the east coast, while a private individual in Anstruther has been awarded £10,000 towards the £40,000 cost of his first creel boat.
Meanwhile, along the coast at Pittenweem, the Fishermen's Mutual Association is to receive £20,000 towards the total cost of a brand new ice plant – something that has long been needed in the area.
Tom Mackenzie, from the Fife Fisherman's Association, said the replacement for the ice plant was "well overdue", adding: "We need to ice all of our prawns before we put them away so for us especially it's a necessity."
The funding announced by the Scottish Government also includes £182,587 for the purchase and installation of a new ice plant at Mallaig Harbour which will protect the quality of catch landing in the west coast.
Fisheries secretary Fergus Ewing said: "From grants which are helping vessels upgrade their equipment, to funding for harbour improvements and better storage facilities, this £6.9 million investment is supporting the whole fisheries supply chain reach into new markets and improve the quality of their produce.
"The range of projects this investment is benefitting shows exactly how reliant our coastal communities are on this European funding stream.
"Where the UK Government has provided options, these are light on detail and full of potential pitfalls.
"They must quickly clarify these options and guarantee fishing communities will not lose out on the opportunities, which a clear funding decision offers them.
"Planning for the future must start now with the Scottish Government fully involved."
Patrick Hughes, chief executive of Seafood Scotland, said the funding was vitally important in showcasing Scotland's seafood products and ambitious exporters.
"This funding will enable Seafood Scotland to support our Scottish seafood companies from across the seafood supply chain," he concluded.
"This EU funding and ultimately the support it provides can make a real difference to companies looking to make those all-important connections with global buyers."